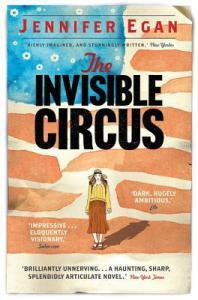 The Invisible Circus by Jennifer Egan
Corsair (ebook), 1994
300 Pages
I borrowed this ebook from my library and read it on my Kobo.
BLURB
In Jennifer Egan's highly acclaimed first novel, set in 1978, the political drama and familial tensions of the 1960s form a backdrop for the world of Phoebe O'Connor, age eighteen.
Phoebe is obsessed with the memory and death of her sister Faith, a beautiful idealistic hippie who died in Italy in 1970. In order to find out the truth about Faith's life and death, Phoebe retraces her steps from San Francisco across Europe, a quest which yields both complex and disturbing revelations about family, love, and Faith's lost generation.
This spellbinding novel introduced Egan's remarkable ability to tie suspense with deeply insightful characters and the nuances of emotion.
OPENING SENTENCE
She'd missed it, Phoebe knew by the silence.
REVIEW
The Invisible Circus is a brilliant novel. I loved every word. Egan is a beautiful writer. I loved the characters. They felt very real, especially Phoebe. The novel is almost unbearably sad at times filled with flashbacks of Faith's reckless, tragic life and moments when it seems Phoebe is going repeat her sister's history. The conclusion of the novel when Phoebe finds out what really happened to her sister in Europe and the events that led to her death was painful to read. I cried like a baby and hugged my Kobo like it was a big teddy that could comfort me. The ending is perfect. Phoebe and her mother live in the same house where Faith lived before she went off to Europe. Egan makes it clear Phoebe and her mother have never really moved on in the ten years since Faith died. Their grief and the unanswered questions about Faith's life and death froze them in time. Phoebe retracing her sister's footsteps and finding out the truth allows them to finally move on and unchain themselves from the past. The Invisible Circus is brilliant, absolutely brilliant.
RATING