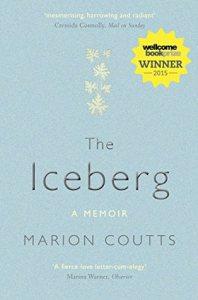 The Iceberg: A Memoir by Marion Coutts
Atlantic Books (ebook), 2015
304 Pages
I borrowed this ebook from my library and read it on my Kobo.
BLURB
In 2008 the art critic Tom Lubbock was diagnosed with a brain tumour. The tumour was located in the area controlling speech and language, and would eventually rob him of the ability to speak. He died early in 2011. Marion Coutts was his wife.
In short bursts of beautiful, textured prose, Coutts describes the eighteen months leading up to her partner's death. This book is an account of a family unit, man, woman, young child, under assault, and how the three of them fought to keep it intact.
Written with extraordinary narrative force and power, The Iceberg is almost shocking in its rawness. It charts the deterioration of Tom's speech even as it records the developing language of his child. Fury, selfishness, grief, indignity and impotence are all examined and brought to light.
Yet out of this comes a rare story about belonging, an 'adventure of being and dying'. This book is a celebration of each other, friends, family, art, work, love and language.
OPENING SENTENCE
A book about the future must be written in advance.
REVIEW
I read this for the 'a memoir' category of my Popsugar Reading Challenge 2015.
I feel drained after reading The Iceberg, emotionally, mentally and physically exhausted. I want to crawl into a dark corner, wrap myself up in a woolen blanket, hug Harry, the teddy I've had since I was four and eat a big bar of Dairy Milk. I cried reading Coutts's memoir, cried and wept like a baby until a bubble of snot formed in the corner of my nostril. The Iceberg is incredibly sad and unbearably real. The Iceberg looks at death head-down in all its terrible beauty. For as long as I can remember I've been afraid of death – or more accurately, a slow, lingering painful kind of death like Tom experiences in The Iceberg. If life was kind we'd all like to live to a ripe old age and slip away quietly in the night. My heart went out to Coutts and her son and the hell they lived for eighteen months. The Iceberg is one of the saddest yet most rewarding books I've ever read.
RATING