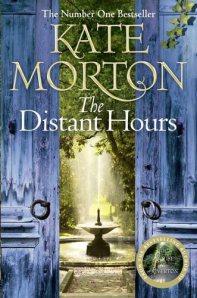 GENERAL INFORMATION
TITLE: THE DISTANT HOURS
AUTHOR: KATE MORTON
PAGES: 670
PUBLISHER: PAN
YEAR: 2010
http://en.wikipedia.org/wiki/The_Distant_Hours
BLURB FROM THE COVER
IT STARTED WITH A LETTER
Edie Burchill and her mother have never been close, but when a long lost letter arrives one Sunday afternoon with the return address of Milderhurst Castle, Kent, printed on its envelope, Edie begins to suspect that her mother's emotional distance masks an old secret.
Evacuated from London as a thirteen year old girl, Edie's mother is chosen by the mysterious Juniper Blythe, and taken to live at Milderhurst Castle with the Blythe family: Juniper, her twin sisters and their father, Raymond, author of the 1918 children's classic 'The True History of the Mud Man'.
In the grand and glorious Milderhurst Castle, a new world opens up for Edie's mother. She discovers the joys of books and fantasy and writing, but also, ultimately, the dangers.
Fifty years later, as Edie chases the answers to her mother's riddle, she, too, is drawn to Milderhurst Castle and the eccentric Sisters Blythe. Old ladies now, the three still live together, the twins nursing Juniper, whose abandonment by her fiancé in 1941 plunged her into madness.
Inside the decaying castle, Edie begins to unravel her mother's past. But there are other secrets hidden in the stones of Milderhurst Castle, and Edie is about to learn more than she expected.
The truth of what happened in the distant hours has been waiting a long time for someone to find it…
EXTRACT
Hush, can you hear him?
REVIEW
I thought The Distant Hours was great. I've read Morton's other novels, The House at Riverton and The Secret Keeper. The Distant Hours offers what I've come to expect from Morton's work – secrets, lies, mystery and suspense. The Distant Hours is a great read. The title is great as well.
STRUCTURE: Morton uses a lot of time shifts in The Distant Hours. The main part of the novel is set in 1992 and deals with Edie uncovering her mother's past and her links to the three mysterious Blythe sisters. These sections are written in the first person from Edie's point of view. Each chapter has a heading i.e. A Lost Letter Finds It's Way. The story shifts back in time 50 years to the time when Edie's mother lived in the castle as an evacuee leading up to the events that drove Juniper Blyth mad. These chapters are numbered and written in the third person from the viewpoint of different characters including Edie's mother, Meredith and the three Blythe sisters. The structure works well. I didn't get lost with all of the time shifts and switching points of view. Morton makes it clear who's who and when's when. This structure meant the story is gradually drip fed and you need to keep reading until it all comes together.
PLACE: The Distant Hours is set in a decaying, gothic old castle in England. Some of the chapters set in 1992 take place in London. Morton does a great job at bringing the decaying, beautiful yet sad old castle to life. Milderhurst Castle has a lot in common with creaky old castles that feature in gothic literature. Unfortunately, I didn't get any real sense of any setting outside the castle. I'd have to go over bits of it again to remember what part of England the castle is based in. Morton could have done a better job of grounding The Distant Hours in a realistic world.
CHARACTERISATION: Morton gets a huge round of applause for the characters in The Distant Hours. I loved every one of them. I thought Edie was great. I really felt for her as she found out her mother was someone she didn't really know at all. I was fascinated by the Blythe sisters and their weird, somehow twisted little life. I loved Juniper. I felt so sorry for her, trapped in the castle for so many years waiting for a lost love that would never come back for her. I liked Saffy a lot as well. She had a lot in common with Juniper. I felt they were more like twins than Saffy and Percy. Percy was an enigma. I didn't have a clue her lost love was another woman until Morton chooses to reveal this. I did wonder why she seemed so angry and betrayed that their maid Lucy was getting married. I felt sort of heart sick for them all, trapped in the draughty old castle. I didn't really like Edie's mother at first because she came across as quite a cold person. As Morton gradually reveals her past I understood her a lot more and warmed to her. I even liked Edie's boss at the small publisher where she worked.
PLOT: I love the premise that opens The Distant Hours. Bags of mail undelivered decades ago are found after a postman dies. Royal Mail delivers these decades' old letters. One of the letters was sent to Meredith by Juniper fifty years before. I loved this idea. There is a lot going on in The Distant Hours aside from the main story that revolves around Edie prying into her mother's past. Morton is a master at weaving lots of little sub plots and storylines together. Some of these include Meredith's experiences in the castle as an evacuee, Junior's love affair and the abandonment that drove her mad and the tragic death of the sister's mother and her lover. Secrets lie at the heart of The Distant Hours. Secrets and lies. Raymond Blythe did a terrible thing and the guilt drove him mad. Saffy did a terrible thing that condemned her sisters to being trapped in the castle. I thought I had all the dirty secrets worked out until Morton pulled another rabbit out of the hat. I didn't really like the ending. All of the secrets have been revealed and Percy makes a terrible choice. I just felt it was crass an anti-climactic after everything that had gone on.
RATING

UP NEXT: 
The Orphan Chorus by Sophie Hannah