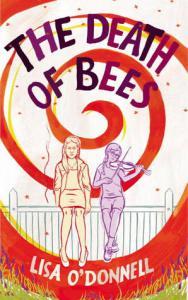 THE DEATH OF BEES BY LISA O'DONNELL
WILLIAM HEINEMANN (PAPERBACK), 2012
295 PAGES 
THIS BOOK IS PART OF MY POPSUGAR READING CHALLENGE 2015 (HTTP://WWW.POPSUGAR.COM/LOVE/READING-CHALLENGE-2015-36071458). THE CATEGORY FOR THIS BOOK IS 'A BOOK THAT TAKES PLACE IN YOUR HOMETOWN'.  
THE DEATH OF BEES IS SET IN MARYHILL, A PART OF GLASGOW THAT'S A STONE'S THROW FROM WHERE I LIVE. IT'S NOT REALLY MY HOMETOWN. I WAS BORN IN A VILLAGE 25 MILES SOUTH OF GLASGOW THAT WAS ONCE A COAL MINING VILLAGE. ANY BOOK SET THERE WOULD BE SOME LOCAL HISTORY TOME I'D RATHER DIE THAN READ. I OPTED FOR A BOOK SET WHERE I LIVE NOW. 
BLURB FROM THE COVER
I'm Marnie. Too young to smoke, too young to drink, too young to fuck, but would have stopped me? 
Hazlehurst Housing Estate, Glasgow, Christmas Eve 2010. Fifteen-year-old Marnie and her little sister Nelly have just finished burying their parents in the back garden. Only Marnie and Nelly know how they got there. Lennie, the old guy next door, has taken a sudden interest is his two young neighbours and is keeping a close eye on them. He soon realises that the girls are all alone and need his help – or does he need theirs?
As the year ends and another begins, the sisters' friends, their neighbours, and the authorities – not to mention the local drug dealer, who's been sniffing around for their father – gradually start to ask questions. And as one lie leads to another, darker secrets about Marnie's family come to light, making things even more complicated.
EXTRACT 
Eugene Doyle. Born 19 June 1972. Died 17 December 2010, aged thirty-eight. 
Isabel Ann Macdonald. Born 24 May 1974. Died 17 December 2010, aged thirty-six. 
Today is Christmas Eve. Today is my birthday. Today I am fifteen. Today I buried my parents in the back yard.
Neither of them was beloved.
REVIEW
This was my first time reading O'Donnell. The Death of Bees is her debut novel.
I loved The Death of Bees. O'Donnell offers the perfect blend of light and dark. Marnie and Nelly's parents were awful – abusive, neglectful junkies. Their father, Gene also sexually molested them both. If anyone deserved to be buried under the flowerbed it's Izzy and Gene. A lot of dark things happen in The Death of Bees but O'Donnell manages to avoid excessive doom and gloom and manages to eject some humor. The characters are brilliant. Nelly was my favorite. She says hullaballoo a lot and dislikes her germ-ridden classmates and would rather hide the library reading than go to class. She's so wonderfully weird and I adored her. Lennie was great at well. He believes the girls have been abandoned and takes care of them. His story ends on a sad note that brought a lump to my throat. The novel ends on a happy note tinged with sadness because of the trauma the girls go through to get there. The Death of Bees is excellent. I can't wait to see what O'Donnell does next.  
RATING