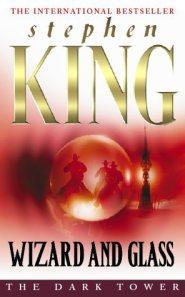 GENERAL INFORMATION
TITLE: THE DARK TOWER IV: WIZARD AND GLASS
AUTHOR: STEPHEN KING
PAGES: 840
PUBLISHER: NEW ENGLISH LIBRARY
YEAR: 1997
http://en.wikipedia.org/wiki/The_Dark_Tower_(series)
http://en.wikipedia.org/wiki/The_Dark_Tower_IV:_Wizard_and_Glass
www.stephenking.com/darktower
BLURB FROM THE COVER
The Dark Tower beckons Roland, the Last Gunslinger, and the four companions he has gathered along the road. And, having narrowly escaped one world, they set out on a terrifying journey across the scarred urban wasteland to brave a new world where hidden dangers lie at every junction: a malevolent computer-run monorail hurtling towards self-destruction, Roland's relentlessly cunning old enemy, and the temptation of the wizard's diabolical glass ball, a powerful force in Roland's first love affair. A tale of long-ago love and adventure involving a beautiful quixotic woman named Susan Delgado.
EXTRACT
The town of Candleton was a poisoned and irradiated ruin, but not dead; after all the centuries it still twitched with tenebrous life – trundling beetles the size of turtles, birds that looked like dragonlets, a few stumbling robots that passed in and out of rotten buildings like stainless steel zombies, their joints squalling, their nuclear eyes flickering.
REVIEW
Wizard and Glass had always been my least favorite of The Dark Tower novels. I think Roland and Susan's story is a great one but I am always eager to get back to Roland, Eddie, Susannah and Jake. I enjoyed Wizard and Glass more this time than in previous reads. Wizard and Glass has grown on me.
STRUCTURE: King uses a story-within-a-story structure for Wizard and Glass. Roland and his ka-tet manage to escape from Blaine thanks to Eddie and find they have veered off the path of the beam and have passed through a thinny (a sort of magical barrier) to yet another version of Eddie, Susannah and Jake's world, this one where most of the world's population has been wiped out by the super-flu from King's novel The Stand. Roland tells his friends about his past and the events that led to the murder of his first love and the start of his quest for The Dark Tower. The novel returns to Roland and his ka-tet at the end as they confront Walter and the sinister Tick-Tock Man from The Waste Lands in a sinister green palace in a version of Oz in Roland's world and get back on the path of the beam. I think this structure worked well. I think the story-round-a-campfire feel the whole novel had.
PLACE: Wizard and Glass is set mostly in Roland's world. Roland tells his ka-tet about becoming a gunslinger when he was only 14 after he found out his mother and his father's right hand man, Marten Broadcloak were having an affair and was tricked into an early trial of manhood. Walter, who is really pulling Martin's strings, expects Roland to die but he earns his guns. Roland meets Susan in a sleepy village called Hambry in the barony of Mejis in the Out World in Roland's world. At the end of the novel we return to Roland's world again. Roland and his ka-tet are in a different world because they have passed through the thinny. I was fascinated by the world King creates in Wizard and Glass. I loved Hambry. King made the town seem like such a real place. Hambry reminded me of the little towns that are the setting for almost every Western movie ever made. I loved it when Roland and his ­ka-tet ended up the world of Captain Tripps from The Stand. I loved his sinister version of the wizard's palace in the emerald city of Oz at the end.
CHARACTERISATION: Roland is the character who develops the most in Wizard and Glass. The events in Hambry go a long way to shape the rather cold man he is when The Gunslinger opens. Kings lets us get to know him a lot more than he does in The Gunslinger, The Drawing of The Three and The Waste Lands. I really warmed to him. I really liked Roland's companions in Hambry, Cuthbert and Alain. Both characters are mentioned in previous so it was good to get to know some of their story. They were Roland's first ka-tet. The bond between Roland his friends was very touching especially when Cuthbert thought his love for Susan had turned him soft and reckless. Alain was sort of the peace-keeper between them both. I thought Susan was a great character. I was emotionally moved by her predicament. Her father's recent death has left her and her aunt on precarious ground because they have lost the paper that states they own land and the house they live in. Susan agrees to be the mayor's gilly (mistress who shares his bed in order to have his child) out of fear they will become homeless. I found her conflict believable and heart-breaking. I wept when she is murdered at the end. I was disappointed that I didn't get to spend more time with Eddie, Susannah and Jake though.
PLOT: Wizard and Glass is very different from the rest of The Dark Tower series. Wizard and Glass is essentially a Western love story. The Big Coffin Hunters are the villains and Roland, Cuthbert and Alain are the cowboys who ride into town to straighten them out. Roland and his ka-tet's quest is pushed to one side. Wizard and Glass could be seen as mostly back-story. Whether this is necessary or not is undecided. I do enjoy reading about Roland and his first ka-tet and Susan but I wanted to get back on the path of the beam with Roland and his current ka-tet. This is why I could never love Wizard and Glass as much as the other novels in the series. A part of me thinks most of this could be skipped entirely and you wouldn't lose track of what was going on. There are some events in Hambry that are linked to Roland's quest for The Dark Tower such as the vision Roland sees in the wizard's glass ball that starts his obsession with reaching The Dark Tower but I still feel most of it isn't necessary. Most of Wizard and Glass could have been in a spin off novel like The Wind through the Keyhole and the rest could have been part of The Waste Lands. I love the little links to King's other novels including The Stand. They don't intrude on Wizard and Glass and you wouldn't even notice them unless you had read The Stand.
RATING

UP NEXT:
The Dark Tower V: Wolves of the Calla by Stephen King. This is a fully illustrated, first edition hard back