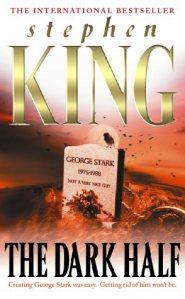 GENERAL INFORMATION
TITLE: THE DARK HALF
AUTHOR: STEPHEN KING
PAGES: 460
PUBLISHER: NEW ENGLISH LIBRARY
YEAR: 1989
http://en.wikipedia.org/wiki/The_Dark_Half
http://en.wikipedia.org/wiki/The_Dark_Half_(film)
BLURB FROM THE COVER
The sparrows are flying again.
The idea – unbidden, inexplicable – haunts the edge of Thad Beaumont's mind.
Thad should be happy. For years now it is his secret persona 'George Stark', author of super-violent pulp thrillers, who had paid the family bills. But now, Thad is writing seriously again under his own name, and his menacing pseudonym has been buried forever.
And yet… the sparrows are flying again, and something is terribly wrong in Thad Beaumont's world…
EXTRACT
People's lives – their real lives, as opposed to their simple physical existences – begin at different times. The real life of Thad Beaumont, a young boy who was born and raised in the Ridgeway section of Bergenfield, New Jersey, began in 1960. Two things happened to him that year. The first shaped his life; the second almost ended it. That was the year Thad Beaumont was eleven.
REVIEW
The Dark Half is one of my favorite King novels. I've read it at least half a dozen times. I like the movie as well. I love the fact some characters from other King novels including Needful Things turn up such as Alan Pangborn, the Sheriff, Norris Ridgewick, a deputy and Danforth 'Buster' Keeton. The Dark Half is a good, old fashioned horror tale.
STRUCTURE: King uses a pretty traditional structure in The Dark Half. The novel is divided into three parts and each part contains several chapters. The chapters are numbered and have a heading (i.e. The Invasion of the Creepazoid).  The events unfold in chronological order. I've read so many novels recently that have time shifts and non-linear narratives I found this approach quite quaint and old fashioned. The structure used in The Dark Half is an oldie but a goodie.
PLACE: The Dark Half is set primarily in Maine, most notably in Ludlow, where Thad and Liz Beaumont live. There are a few chapters set in other places including New York City. The main action takes place in Maine. Ludlow is also the setting for the King novel, Pet Sematary. I think King did a great job at bringing the chapters in Maine to life. I felt like I was really in Ludlow with Thad as he struggled to keep it together and protect his wife and children from the monster he created. The novel doesn't spend enough time in any of the other places for them to be very vivid or memorable. I love King's novels set in different parts of Maine. The Dark Half is one of the best.
CHARACTERISATION: King does a great job of bringing the characters to life in The Dark Half. The key players are Thad, Liz and Pangborn. I felt these were very well written. They were real people. I think Pangborn was the best character but that could be because he's a key player in Needful Things so he's like an old, dear friend I know really well.  I really liked Thad. I find it very interesting that a lot of King's novels feature writers as the key players. You know what they say? Write what you know. Thad is not perfect. He is a very real, flawed human. George Stark really is the darker side of his personality, the part he hides from everyone else. I liked Liz as well. The Dark Half features other, minor characters. I thought they were all well written and realistic.
PLOT: The Dark Half is a traditional old supernatural horror story. King really pulls out all stops. There are even some non-supernatural events that take on a more sinister meaning such as Thad having partial remains of his twin brother removed from his brain. This sounds like something out of the Hammer House of Horror but it is a rare medical condition that sometimes a woman had two foetuses in her womb and the stronger one absorbs the weaker on. King turns this into a horrific event, the creation of George Stark. I think the plot of The Dark Half is pretty original. Thad decides to write under his own name and get rid of his pseudonym forever. He has a mock burial of a man who never existed in the first place. Old George don't want to be dead and digs his way out of his grave and seeks vengeance. How creepy is that? I loved the scene at the end when the sparrows come to take Stark to hell. This is one of the best and more frightening scenes in the novel. The Dark Half is a fine horror novel.
RATING

UP NEXT: 
The Dark Tower 1: The Gunslinger by Stephen King