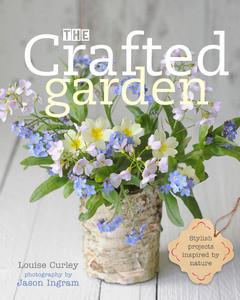 I often have whimsical thoughts that I will make some ornamental delight from autumn leaves or festoon the house with winter foliage and berries for Christmas.   But do I ever create these crafty masterpieces? Well No! Of course not!  There is never enough time and even if I was to collect  winter berries and leaves I am then left wondering how to turn them into the image of a Christmas arrangement that might grace a Victorian masterpiece (seen through a frosted window!) which is in my head.
But Louise Curley has come to my rescue with her new book The Crafted Garden.  The book works through the seasons demonstrating a range of crafts that you can do with items from your garden or foraged from hedgerows and there are even items that I think I could do which might give me some encouragement to try something more ambitious.
But before we get carried away Louise starts off with tips about equipment and techniques, the sort of information you really need but don't realize until you have got in a muddle.  There is also advice on foraging and after-care, always useful even if you think you know about these things – I don't!
We then start with Spring crafts but it is not all about the crafts throughout the book. There are also one page articles on growing various plants; in Spring its primrose and forget-me-nots.  The crafts are quite simple and in our season of choice they range from delicate egg shells used as vases, using teacups as planting containers for small spring delights (I saw something similar at Helen Dillon's garden with lobelia in a cup and saucer and it was really effective), to making pots out of bark.  My favorite in this section were the terrariums and I will definitely be having a go at those.  Just as there are articles on associated plants to grow throughout the book there are self-contained articles teaching you new techniques such as pressing flowers and also features on key plants/flowers for each season.
The remaining three seasons follow the same format all beautifully illustrated with Jason Ingram's photographs.  The photographs not only show the end product, or close-ups of the plant material used but also some close-ups of  items being produced to help you understand what is required.  The instructions are written in a simple straightforward format but what makes the book more engaging than a collection of craft instructions is the introductions to each item by Louise written in a chatty and friendly way giving extra tips and advice on alternative material you can use.
The book ends with a comprehensive directory of suppliers of everything from the plants through to the haberdashery and where to find vintage items.
I particularly liked this book because the projects all seemed to be achievable; even with a limited amount of time I think you could achieve the majority of them.  I also liked that whilst some of the items had a rustic charm to them there were other items such as the driftwood planter for succulents which would look good in the most modern of homes.  Many of the items could also be made with your children if you wanted to but  whilst Louise recognises this she hasn't compromised the book by trying to write for both age ranges.
I would recommend The Crafted Garden to anyone who has aspirations to be more crafty and to use their garden produce in more decorative ways than plonking flowers in a vase – of which I am guilty