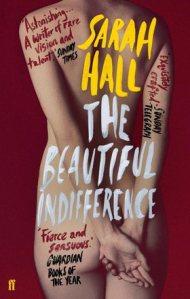 THE BEAUTIFUL INDIFFERENCE BY SARAH HALL
FABER & FABER (PAPERBACK), 2012
208 PAGES
BLURB FROM THE COVER
A new collection of short stories by Booker-shortlisted author Sarah Hall.
From the heathered fells and lowlands of Cumbria with their history of smouldering violence, to the speed and heat of summer London, to an eerily still lake in the Finnish wilderness, Sarah Hall evokes landscapes with extraordinary precision and grace. The characters within these territories are real-life survivors, but whether it's a frustrated housewife seeking extreme experience or a young woman contemplating the death of her lover, dark devices and desires rise to the surface. And the human body, too – flawed, visceral, and full of emotional conflict – provides a sensuous frame for each unfolding drama.
Uniquely disturbing and deeply erotic, this collection confirms Sarah Hall as one of the greatest writers of her generation.
The Beautiful Indifference includes 'Butcher's Perfume', which was shortlisted for the BBC National Short Story Prize in 2010
EXTRACT 
Later, when I knew her better, Manda told me how she'd beaten two girls at once outside the Cranemakers Arms in Carlisle.
BUTCHER'S PERFUME
REVIEW
This was my first reading Sarah Hall. I like stories collections. They're a good way to dip in and out of a new writer. I couldn't resist when I saw the rather risqué cover and I thought the title was great.
I thought this was a great collection of stories. I really liked Hall's style and her use of language. The opening story, Butcher's Perfume is one of the best stories I've ever read. I loved every sentence. It's a brilliant story about how hard it is to be a teenager and gives great insight into friendship. The title story was beautiful and sad and sort of lovely. I loved the way Hall writes from the perspective of an older woman reflecting on her sexually charged relationship with a much younger man. The other tales in this short collection are equally great. This is an impressive collection.
RATING