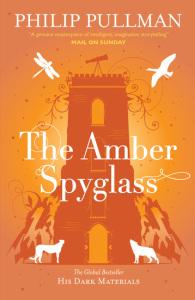 GENERAL INFORMATION
TITLE: THE AMBER SPYGLASS (HIS DARK MATERIALS)
AUTHOR: PHILIP PULLMAN
PAGES: 522
PUBLISHER: SCHOLASTIC BOOKS
YEAR: 2000
GENRE: YOUNG ADULT FICTION / FANTASY FICTION
COVER TYPE: PAPER BACK
http://en.wikipedia.org/wiki/The_Amber_Spyglass
BLURB FROM THE COVER 
'We're going to the land of the dead and we're going to come back'. 
Will and Lyra, whose fates are bound together by powers beyond their own worlds, have been violently separated. But they must find each other, for ahead of them lies the greatest war that has ever been – and a journey to a dark place from which no one has ever returned.  
EXTRACT 
In a valley shaded with rhododendrons, close to the snow line, where the stream milky with melt-water splashed and where doves and linnets flew among the immense pines, lay a cave, half-hidden by the crag above and the stiff, heavy leaves that clustered below.
REVIEW
The Amber Spyglass is from my own collection. I bought it along with The Subtle Knife after I read and loved the first book in His Dark Materials trilogy, Northern Lights.
I thought The Amber Spyglass was great. Northern Lights is my favorite book in the His Dark Materials series. The Amber Spyglass is a close second. This great novel combines the action of Northern Lights with the slightly slower pace of The Subtle Knife. I loved The Amber Spyglass.
I liked the way the characters develop even further in The Amber Spyglass. Lyra matures in this novel. She goes through a lot including being rescued from Mrs Coulter, being separated from her demon to enter the world of the dead and falling in love with Will. I liked watching her grow and develop. I also liked Will a lot more in The Amber Spyglass. In The Subtle Knife I found him a bit irritating. He whined about his mother a lot. I liked the way he matured. I also liked the development of the other characters. My favorite character for some reason was Mary Malone. The chapters that explored her life with the Mulefa (sapient, elephantine creatures who use large seedpods attached to their feet as wheels) were my favorite sections.
Lyra and Will are determined to enter the world of the dead. Lyra dreamt about this when she was being drugged in a cave by her mother. She saw her friend Roger who was killed by Lord Asriel in Northern Lights. She blamed herself for his death and wanted to apologize. Will also wanted to speak to his father again who was killed at the end of The Subtle Knife. This section reflects Greek mythology. An aged boatman (probably Charon) ferries souls across a river to a dark, joyless realm where the dead are tormented by harpies. I find Greek mythology fascinating and this is one of the best sections of the novel.
I liked the way Pullman writes his own version of religion in The Amber Spyglass and other books in His Dark Materials trilogy. Pullman clearly takes some liberties with the church and doesn't show religion in a good light. I think his interpretation is very bold and original. I really enjoyed the ways angels are featured in The Amber Spyglass and towards the end of The Subtle Knife. I found it amusing when God (known as the Authority) in His Dark Materials is portrayed as weak and feeble. I found it amusing when Lyra and Will free the Authority from his Crystal prison and he's so weak he dissolves. The Church is so afraid of dust and believes it to be original sin. They believe Lyra will be tempted like Eve and are threatened by this. The thing they are so afraid of is simply growing up which a lot of people are afraid of. I liked the way Pullman put his own spin on things.
Lyra and Will realize they love each other. This love causes them to be covered in golden particles of dust. Mary Malone discovered dust was escaping through holes created by Will's knife. Lyra and Will's love halts this and they become covered in dust which becomes attracted to them because of their love for each other. I found this section sort of twee but enjoyed reading it because it's so well written.
The ending of The Amber Spyglass was great but also very sad. Xaphania, a female angel reveals all the doorways opened by the knife need to be closed. They are causing the dust to spill into oblivion and are also responsible for the horrible spectres that eat souls. She promises to do this and keep one door open that leads to the world of the dead. Will and Lyra learn they cannot survive for more than ten years in any world but their own which means they can't live happy ever after. They need to return to their own worlds. They have an emotional farewell and agree to return every Midsummer's day to a bench in the Botanical Gardens that exists in both their worlds. Hankies all round!
RATING