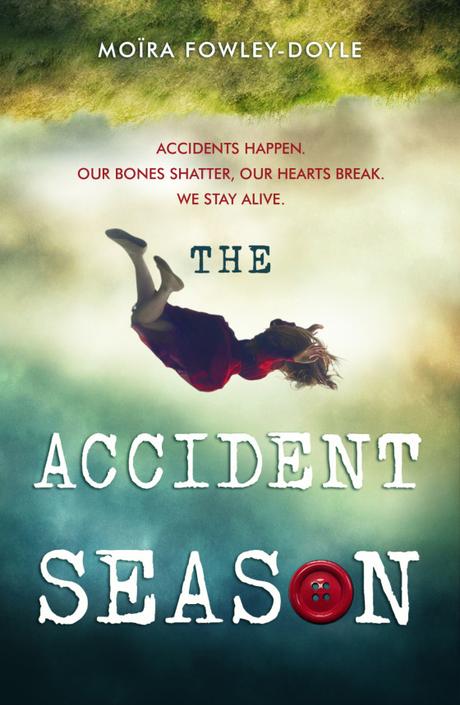 Title: The Accident Season
Author: Moïra Fowley-Doyle
Genre: Young Adult, Fantasy, Mystery
Length: 280
Rating: 3 Star
Description/Synopsis:
It's the accident season, the same time every year. Bones break, skin tears, bruises bloom.
The accident season has been part of seventeen-year-old Cara's life for as long as she can remember. Towards the end of October, foreshadowed by the deaths of many relatives before them, Cara's family becomes inexplicably accident-prone. They banish knives to locked drawers, cover sharp table edges with padding, switch off electrical items – but injuries follow wherever they go, and the accident season becomes an ever-growing obsession and fear.
But why are they so cursed? And how can they break free?
Review – MAY CONTAIN SPOILERS
This book was a bit hit and miss for me. There are some parts I liked and some parts I didn't like at all. One part that I enjoyed a lot that really has nothing to do with the actual story content was that I listened to the audio book for this, and I loved how the actually used voice actors with Irish accents. I found listening to them talk highly enjoyable.
The plot for this book mixes in a little bit of magic/fantasy into the reality, and normally I liked this sort of thing as with Ava Lavender, but with this book I was not so sure how seriously I should be taking it. We start off with this amazing concept that every October this family has this Accident Season where they have many simple accidents that gradually lead up to worst and worst ones and in some cases people have died. I know that if something like that happened to me every year I would have been killed off pretty quickly. I am accident prone enough as it is hahah. But as the plot progresses a question of how much of what is happening to the family is actually because of the Accident Season or is there a more real world issue that is causing trouble for the family. The twist that comes along with this is one you go along with. Its not a surprise, but I for one didn't get annoyed that I already know what was going to happen.
The writing style is one that I love. Its really what I would describe as 'flowy' and even though it wasn't perfect, it did a very good job at weaving the realistic and magical aspects together. I find this kind of writing super easy to get into and go along with no matter what you are actually reading.
Now the characters is where I think the book falls the shortest. While I enjoyed each of the characters enough, I didn't find that they really had much depth. This lack of depth lead to me not really connecting to any of them. I didn't want any of them to die or be hurt, but I didn't love any of them. The character I liked the most is one that Cara and everyone else were looking for most the book and thusly wasn't really in there.
I also found that all the characters had really weird relationships with each other. I wasn't into the main love story in there. That kind of story has been done in a way where it didn't bother me, but this one didn't manage to do that. I think my weirdness for it was because the characters were weird with each other just in general. They had these secrets when there didn't need to be secrets, and they were always changing their minds about everything and each other in ways that I didn't really feel flowed or made sense.
Now I think I will leave this review here. I feel like I am having issues writing reviews that make sense lately, but with this book I cannot really talk about what it happening without spoiling things for you which will be my excuse as to why this one does not flow :D I would recommend this book to people who like a bit of magical realism, and want a book that has a creepy sort of undertow to it without flat out being actually scary.
Till Next Time…
Advertisements