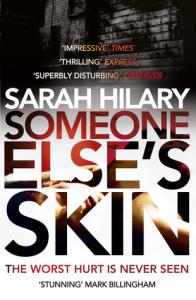 SOMEONE ELSE'S SKIN BY SARAH HILARY
HEADLINE (PAPERBACK), 2014
432 PAGES 
WWW.GREGORYANDCOMPANY.CO.UK/PAGES/AUTHORS/INDEX.ASP?AUTHORID=90 
This book is part of my Popsugar Reading Challenge 2015 (http://www.popsugar.com/love/Reading-Challenge-2015-36071458). The category for this book is 'a mystery or thriller'. 
I chose this book simply because it was the first un-read one in my collection that fit the category. I've also wanted to read this novel for ages since I read a brilliant review in MsLexia magazine.
BLURB FROM THE COVER
Called to a woman's refuge to take a routine witness statement, DI Marnie Rome instead walks in on an attempted murder.
Trying to uncover the truth from layers of secrets, Marnie finds herself confronting her own demons.
Because she, of all people, knows that it can be those closest to us we should fear the most…
EXTRACT
Five years ago 
They've cordoned off the house by the time she gets home. A uniformed stranger is unwinding police tape, methodically.
REVIEW
This was my first time reading Sarah Hilary. Someone Else's Skin is her debut novel.
I absolutely loved Someone Else's Skin. I feel like I've been reading the novel for weeks. I've just had a very busy period recently where I couldn't read as much as I wanted to. Someone Else's Skin is the kind of thriller I love – intense, harrowing and full of twists and turns that make you feel dizzy and orientated. Hilary offers a revelation about halfway through the novel that pretty much turns every event until that point on its head and surprised me so much my jaw hit the floor. I love it when writers take me by surprise a bit like someone kneeing you so hard between the legs you're completely winded. The portrayal of domestic violence is very harrowing and realistic in Someone Else's Skin. Someone Else's Skin is a crackling thriller. Marnie Rome is a great character and I love her name. I can't wait to get my mits on the new Marnie thriller No Other Darkness.
RATING