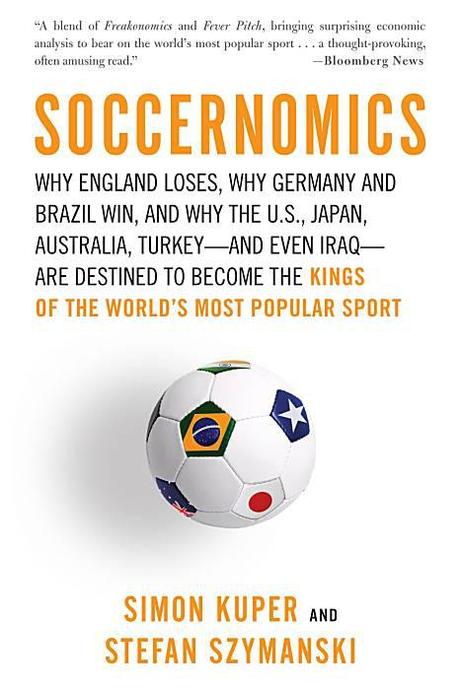 Simon Kuper and Stefan Szymanski's updated version of Soccernomics
We've seen a major revolution in the Beautiful Game and it was Soccernomics back in 2009 that started to talk about that change. Of course, there are national teams as well as leagues that constantly come up short in the biggest stages.
Well the buying of players after World Cups, the immediate attraction to the physical appearance of a player (blondes) as well as other prejudices from coaches and players.  This book uses the concepts and approaches discussed in Moneyball as well as Freaknomics and transferred them over to the world of football.
This worldwide bestseller was updated to have information from after the 2010 World Cup included in as many of the bits of research that they dug up during the process made their arguments that much more stable. It did not fail to disappoint as the numbers that were given were mixed in very well with the anecdotes and discussions that the authors had with several personalities in the game as well as number crunchers and tech geeks to give a more well-rounded opinion.
Although you talk to me and I still remain a purist to an extent.  I don't fully believe that stats and numbers tell the entire story  of a match.  Using stats to come to conclusions in a sport that uses numbers that sometimes don't tell the entire story leads to more questions in the end than answers.
Football is still a game of intangibles that usually make a difference.  That is one thing that I believe about the game  wholeheartedly.
The section on how the penalty kicks were analyzed was brilliant and could have helped Maarten Stekelenberg should the Dutch have gotten to penalty shootouts.
Seeing how the book details the growth of the game and how it maps it out based on the economic growth of many nations makes it all the more viable for countries like the US as well as India to also become some of the biggest footballing powers around.
The 2010 version, intricately talks about the growth of Spain and how it was thwarted during the Franco Era.  The limitations as well as the closed market attitude that there was in Spain showed reason, and with numbers, as to the inability of La Roja to progress during that time.
Although it was very interesting to see the notion of Spain being an overachieving side in international competition went against the grain, and to a certain degree, the logic that both Kuper and Szymanksi put on the table makes it extremely sensical to say that Spain made some great strides and did what they could with what they had at their disposal with the population and wealth they had prior to the country joining the European Union as well as their ability to tap into the European network as well as into the concepts of Total Football.
In the book there is a great deal of observations established talking about how globalized the game is and how it reflects in social aspects such as trade and economic growth.
Will we see the US becoming a world power in the game?  Who knows? Although the class exclusion argument they used for England could be used inverted when it comes to talk about the United States.
Better question yet, is a team like Mexico going to be a world power?  That issue seems to be not mentioned much at all.  What about countries with high exportation rates such as Argentina and Uruguay?  If that theory were to be true, Chile would have to be amongst one of the world's most important sides, yet they are mired in constant limbo.  Colombia would be an emerging world power based on their growing economy as well as their free trade agreement with the United States.
My point there was that the South American side is rarely touched upon save for the anomaly that is Brazil.   There are stretches where the examples are best seen from an English perspective and using solely English examples.
Soccernomics is an absolute must-have book for the game's intelligentia.  Kuper and Szymanski explain trends on and off the pitch in such a way that one is open to an aspect of the game that helps you understand to a much greater extent those intricacies of how the chess pieces were moving at one point and how that trend is changing.
Although there could be concepts that you do not fully agree on, you can certainly understand how both Kuper and Szymanski get to those conclusions.  What is commendable though is their digging of statistics and leaving no stone unturned might have not answered certain questions as fully as possible, yet they were able to lead you on a path where you could make your own conclusions. In the end some of the conclusions they want to embark on are not easy to explain with just numbers alone.
Yet, the book tackles some material and leaves it up to the reader to talk about it and continues to elaborate on it via other outlets as well as with friends.
In my opinion, there are books that you have to have in your home library in order to show football culture as well as a knowledge of the world that surrounds us.  
Soccernomics
is like
The Art of War
or even 
The Prince
for football fans. It brings for everyone from the soccer experts to the most novice of fans a refreshing perspective of the game that is backed up in empirical as well as numerical facts with lots of historical information sprinkled in which makes it not just informative and stimulating; it is quite an entertaining read. WHAT DID YOU THINK ABOUT SOCCERNOMICS.  LET ME KNOW BY LEAVING YOUR COMMENT OR BY COMMENTING ON FACEBOOK OR TWITTER
@juang_arango