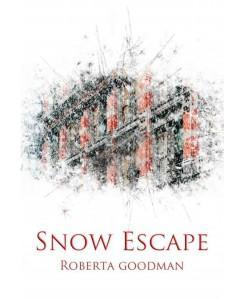 I am finished reading another great book called "Snow Escape" by Roberta Goodman.  I have been following her on twitter for a few weeks and I had seen several posts regarding her book.  I sent her a message on Twitter and asked her if I could review her book.  She said, "that she would be honored if I reviewed her book." This book is full of twists and turns, leaving you wondering where the author is going to lead each of the characters next.
Disclosure:  I received the book in exchange for a review of Snow Escape.  The opinions reflected in this post are my own and I wouldn't recommend a product that I didn't enjoy.
Allegra Maxwell recently was dumped by her ex-boyfriend Danny.  She wanted more from the relationship; however, Danny wasn't interested in anything more than friends with benefits.  When Danny broke up with Allegra, she would occasionally stalk him or call him.  After a few weeks passed, she decided that it was time to move on so she joined an online dating site.
She meets a guy, on the dating site, named Peter and she felt that there was something there that reminded her of her ex-boyfriend.  Things ended up not going so well and after two dates Peter told Allegra that he wanted to go back to his ex-girlfriend.
One afternoon, it began to snow heavily and Allegra was waiting on an announcement from the school office telling everyone to go home early.  Once she got home, she quickly realized that she was probably going to be stuck in her apartment for a few days until the storm subsided.  Later in the evening, she decides to log onto her computer and see if there was any new messages in her inbox.  Much to her surprise, she found three new messages in her inbox from the dating site.  She glanced over the profiles and saved them so that she could reply to them later.  Later that evening she decided to reply to one of the messages, so she quickly scanned through the profiles again and thought one of the guys looked quite familiar.  So she decided to email him back.
After talking to Charles and getting to know him better, while chatting with him on the dating site things quickly got weird.  Allegra found herself in a situation that she wished that she wasn't in.  Charles told Allegra that he has been watching her for weeks and claimed that he lived in her building.  She felt scared and turned to her neighbors for help.
This is a brief summary on Amazon and you will have to read the book to find out what happens to Allegra next.
"When her sanity is questioned, because the online evidence her stalker exists disappears, Allegra must prove he does exist and she isn't losing her mind. When a power outage thrusts her into darkness, will she be able to overcome the helplessness she feels? Placed in a situation that's spiraling totally out of her control, while trapped in her apartment building with no escape, will she survive until the authorities can reach her?"
About the Author
Roberta Goodman is a stay at home mom of two wonderful children.  Her and her family reside along the Eastern Shore in Maryland.  Having grown up in Philadelphia, Roberta found that she could express her creativity through her writing.  For more information about Roberta Goodman, check out her blog Ro_Always Inspired and you can find her on Twitter @RobertaGoodman.
I am very thankful that Roberta gave me the opportunity to review her book.  I thoroughly enjoyed Roberta's creativity and the way that she drew me into her book.  I have to admit that I had a hard time putting this book down and finished this book fairly quick.  I wanted to find out what happened to Allegra.
To get weekly updates to Uplifting Families, please subscribe to my newsletter or join in the conversation with me on Twitter, Facebook, Pinterest, and G+.
Buy Snow Escape by Roberta Goodman Now From Amazon