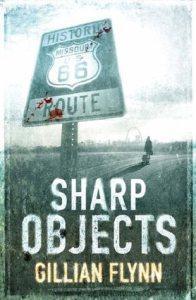 Sharp Objects by Gillian Flynn
Phoenix (Paperback), 2005
321 Pages
I borrowed this from my library.
OPENING SENTENCE
My sweater was new, stinging red and ugly.
REVIEW
Sharp Objects is the debut novel from the author of Gone Girl. Camille is forced to return to Wind Gap, the small town where she grew up to write a report about two murdered girls for the paper she works for. She hasn't been home for many years and is reacquainted with her neurotic mother Adora and her thirteen-year-old half-sister, Amma. Her enquiries take her into the darkness of her childhood.
I've wanted to read Sharp Objects for years since I read a brilliant review in the magazine MsLexia. The novel was added to my long list of 'to read's' and I never got round to it. Gone Girl blew me away last year. I didn't even realize they were by the same author until I'd finished Gone Girl (the movie is really good). I finally got round to borrowing Sharp Objects from the library and I plan to read Dark Places as well.
I thought Sharp Objects was brilliant. The novel is absorbing, creepy and unsettling by turns. I thought Camille was a brilliant, if broken character. I found it incredibly sad when Flynn reveals that she's carved words into her flesh for years with a knife. Camille's mother, Adora (what a freaky name) and her half-sister Amma made my flesh crawl. Sharp Objects really packs a punch and explores some pretty dark subject matter. I found Flynn's debut creepy, unsettling, disturbing but compelling and brilliant. I can't wait to read Dark Places.
RATING