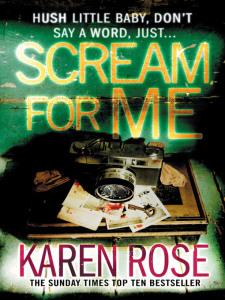 GENERAL INFORMATION
TITLE: SCREAM FOR ME
AUTHOR: KAREN ROSE
PAGES: 471
PUBLISHER: HEADLINE
YEAR: 2011
GENRE: CRIME FICTION
COVER TYPE: HARD BACK
www.amazon.co.uk/Scream-Me-Karen-Rose/dp/0755385233
BLURB FROM THE COVER 
Special Agent Daniel Vartanian has sworn to find the perpetrator of multiple killings that mimic a 13-year-old murder linked to a collection of photographs that belonged to his brother, Simon, the ruthless serial killer who met his demise in DIE FOR ME. Daniel is certain that someone even more depraved than his brother committed these crimes, and he's determined to bring the current murderer to justice and solve the mysterious crime from years ago. 
With only a handful of images as a lead, Daniel's search will lead him back through the dark past of his own family, and into the realm of a mind more sinister than he could ever imagine. But his quest will also draw him to Alex Fallon, a beautiful nurse whose troubled past reflects his own. As Daniel becomes attached to Alex, he discovers that she is also the object of the obsessed murderer. Soon, he will not only be racing to discover the identity of this macabre criminal, but also to save the life of the woman he has begun to love. 
EXTRACT 
Mansefiield Community Hospital, Dutton, Georgia, Thirteen years ago
A bell dinged. Another elevator had arrived. Alex stared at the floor and wished to be invisible as a strong perfume tickled her nose.
REVIEW
This is a library book. I had read good things about Karen Rose online and added her to my writers to check out list. I discovered after I started reading Scream For Me that years ago I had one of her novels, Count To Ten but I never got round to reading it before I threw it out.
I really enjoyed Scream For Me. I liked the way Rose structured this novel. She's a good writer. Scream For Me is fast paced. I found myself racing through the pages. I thought the plot was pretty original, for crime fiction, a genre where it's too easy to churn out poor formulaic novels. I was impressed and want to read more of her work.
I liked the way Rose structures Scream For Me. Each chapter is split into several section, each sections deals with the various story threads. Each section is headed with the location the events take place as well as the date and time. Rose makes it easy for readers to follow what's going on. Camilla Lackberg uses a similar structure in her novels but she doesn't give each section a heading. I liked this structure because everything that happens in Scream For Me is drip fed in little chunks. This compelled me to read on until the little threads join up.
I thought Rose did a great job with characterisation in Scream For Me. All of the characters, especially Alex and Daniel were well written and believable. Alex was my favorite. I think Rose did a great job of showing the effect of surviving trauma through her character. Alex had heard screaming inside her head since her sister was murdered. With Daniel's help she is hypnotised and memories of what really happened the night her sister died surfaced. I just found her a really interesting person and could sympathise with her. I also really liked Daniel. He's going through his own hell reliving his past and the revelation his brother, who he killed, was a serial killer. I also liked the other characters. I was impressed that Rose managed to avoid making the villains too over the top. A lot of crime writers make the bad guy an awful stereotype or cartoonish monster. In Scream For Me, the villains were human enough to be unsettling.
I thought the plot of Scream For Me was original and interesting. Scream For Me is quite a complex novel with a lot of stuff going on. The main story revolves around Alex returning to her home town when her stepsister goes missing. The there's Daniel's determination to identify the girls who were raped in his brother's picture and bring the rapist's to justice. Then there are the dead women that start turning up and so on and so forth. 
Scream For Me deals with some pretty gruesome subject matter including murder, gang rape, human trafficking and sexual abuse. Some of these are not easy things to read. I was impressed by the way Rose handled these events without being gross and gory. Karin Slaughter wrote a novel that dealt with similar material. I can't remember the title but she turned my stomach.
The novel is set in Dutton, a small town in Georgia. Thirteen years ago a group of local rich boys led by Daniel's serial killer brother drug and gang raped fifteen teenage girls from poorer families. There are several prominent locals including the mayor who knew about this and pretty much covered it up. A lot of people were involved in this conspiracy. I didn't find this believable. Rose didn't sell this plot element to me. I just didn't buy that a small town would have so many nasty people in it. Rose didn't make me believe this.
I wasn't impressed by the sense of place Rose creates in Scream For Me. The novel is set in Georgia. The information Rose provides about the town is generic and could apply to any small town in pretty much every part of the world. Rose didn't make Dutton real enough for me. I didn't feel like I was there at any point. I like novels the best that pull me out of my world and into the world of fiction between the pages. Rose doesn't completely manage this.
RATING