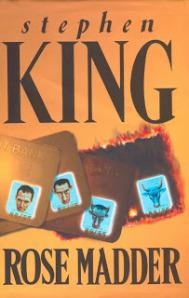 GENERAL INFORMATION
TITLE: ROSE MADDER
AUTHOR: STEPHEN KING
PAGES: 595
PUBLISHER: NEW ENGLISH LIBRARY
YEAR: 1995
GENRE: SUSPENSE FICTION
COVER TYPE: PAPER BACK
http://en.wikipedia.org/wiki/Rose_Madder_(novel)
BLURB FROM THE COVER 
Roused by a single drop of blood on the bedsheet, Rosie Daniels wakes from fourteen years of a nightmare marriage and suddenly takes flight. She uses her husband's ATM card to buy a bus ticket, determined to lose herself in a place where Norman won't find her. She'll worry about all the rest later. 
Alone in a strange city, she begins to make a new life, and good things start to happen. Meeting Bill Steiner is one; and finding a junk-shop painting is another. It may be bad art but it's perfect for her new apartment-and somehow, it seems to want her as much as she wants it. 
Still, it's hard for Rosie not to keep looking over her shoulder, and with good reason. Her husband is a cop, with the instincts of a predator. He's very good at finding people. The fact that he's losing his mind might even be an advantage. 
Rose-maddened and on the rampage, Norman Daniels becomes a force of relentless terror and savageness, a man almost mythic in his monstrosity. For Rosie to survive, for her to have a chance in her brave new world, she must enter her own myth–a world that lies beyond the surface of a work of art-and become a woman she never knew she could be: Rose Madder… 
EXTRACT 
She sits in the corner, trying to draw air out of a room which seemed to have plenty just a few minutes ago and now seems to have none. From what sounds like a great distance she can hear a thin whoop-whoop sound, and she knows this is air going down her throat and then sliding back out again in a series of feverish little gasps, but that doesn't change the feeling that she's drowning here in the corner of her living room, looking at the shredded remains of the paperback novel she was reading when her husband came home.
REVIEW
Rose Madder is from my own collection. It's one of my favorite King novels. I've read it several times but not for many years.
In Rose Madder King tackles the subject of domestic violence. This has been written about in one form or another for years. King has tackled this himself most notably in Dolores Claiborne. I liked the fact that Rose leaves Norman, she eventually snaps out of the daze she's been in for years and flees. King doesn't tackle this subject in a particularly new or original way but his writing is so good in Rose Madder you think he's offering something different. I love reading about Rose escaping Norman, her arrival at Daughter's & Sisters and her first steps in her new life. King does a great job of bringing her journey to life in a very vivid way.
King really knows how to build tension and he does a great job of this in Rose Madder. Norman tracks Rose down fairly quickly and is in the town where she's taken refuge just over half way through the novel. King fairly builds up suspense and tension as he makes us wait to see what his move will be. I found my heart beating fast and my pulse racing as I waited for the big showdown.
The characterisation is very good in Rose Madder. Rose is a flesh and blood character. She could so easily have been a stereotypical beaten and cowed down victim. King turns her into a real woman. She's afraid of Norman and has every reason to be after fourteen years of hell but she's always tough and determined to be free of him forever. She's got spunk and King had me rooting for her. I thought Norman was a great villain. In a way he is a stereotypical bad guy and wife beater, a psychopathic cop who likes to talk to people up close and likes to bite. King makes this work and I thought every scene he was in was great. He was a nasty piece of work. I also liked the other characters. Bill Steiner was perfect as Rose's love interest. He was Norman's polar opposite and exactly what she needed. I liked the woman at Daughters & Sister's. Gertie was hilarious. Cynthia makes another appearance in Desperation. 
There is only one aspect of Rose Madder that doesn't quite work for me. Rose buys a painting called Rose Madder that she is instantly drawn to. The painting is alive and Rose is able to step inside it to a world inspired by Greek mythology. She lures Norman into this world. I have no issue with portals leading to other worlds. I am a huge fan of the Narnia books and His Dark Materials. I have read novels that blend genres including fantasy and horror or fantast and suspense fiction. I just don't think King pulls this off so well in Rose Madder. I felt these sections were quite clunky and awkward. They didn't flow as well as the rest of the novel and I didn't enjoy reading them as much.
RATING

Up next: I've ordered King's new novel, Doctor Sleep from www.amazon.co.uk. It should be here in a couple of days. I intend to read this next.