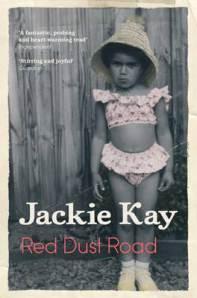 GENERAL INFORMATION
TITLE: RED DUST ROAD
AUTHOR: JACKIE KAY
PAGES: 289
PUBLISHER: PICADOR BOOKS
YEAR: 2011
GENRE: MEMOIR
COVER TYPE: PAPER BACK
www.amazon.co.uk/Red-Dust-Road-Jackie-Kay/dp/0330451065
www.scottishpoetrylibrary.org.uk/poetry/poets/jackie-kay
BLURB FROM THE COVER 
There is a moment, when, as a little girl, Jackie Kay realises that her skin is a different color from that of her beloved mom and dad. Later in life, and pregnant with her own son, she decides to trace her birth parents. On a journey full of unexpected twists, turns and deep emotions she discovers that inheritance is about much more than genes: that we are shaped by songs as much as cells, and that what triumphs, ultimately is love.  
EXTRACT 
Jonathan is suddenly there in the hotel corridor leading to the swimming-pool area. He's sitting on a white plastic chair in a sad café. There's a small counter with a coffee machine and some depressed-looking buns. He's dressed all in white, a long, white African dress, very ornately embroidered, like lace, and white trousers. He's wearing black shoes. He's wired up. My heart is racing. 'Jonathan?' I say.
REVIEW
Red Dust Road is a library book. I'm a fan of Kay's poetry and her novel, Trumpet is amazing. I was picking Galloway's This Is Not About Me off the shelves when I spotted Red Dust Road and had to have it.
I loved Red Dust Road. Kay offers exactly what a memoir should be to me – a glimpse into someone's life whose experiences are nothing like mine.  I just adored every word of Red Dust Road. Kay's memoir is happy and sad and touching and shocking in equal measures.
Kay uses a non-linear structure in Red Dust Road. The memoir opens with Kay meeting her birth father in Nigeria. There's something quite sad about this. Her father is a born-again Christian. He spends several hours dancing and chanting and reading bits from the bible to try to convince her to accept God. Kay, who's an atheist, finds this experience quite painful. Her father then says he will only acknowledge her existence as his daughter if she accepts Christ. My heart really went out to Kay. The rest of the memoir explores what happens after this meeting but also includes flashbacks of various points in her life including meeting her birth mother in Edinburgh whom she meets several times, her birth father's silence as he fails to reply to any of her email and her childhood. I think this structure works really well in Red Dust Road and compels you to read on.
One of my favorite scenes is a second flashback to Kay's meeting with her birth father. Kay is able to make him understand she's a lesbian and that Carol, the woman he spoke to first is her lover. Her birth father seems quite fascinated by all this. Kay expected him to be shocked because of his religion but gets the opposite reaction. However, he's very curious about who two women do in bed and asks if they squeeze each other's titties and such. I laughed so much I almost wet myself.
Kay meets her birth mother several times. I found these meeting's very sad. Her birth mother is a frail little woman. She wanted to keep Kay but being the white, unmarried mother of a black child born out of wedlock was not an option for her. In her last meeting Kay discovers her birth mother has senile dementia. This scene is very sad as Kay sees notes all over her birth mother's house to remind her of certain things (Elizabeth, remember Jackie). Kay finds a note in her bag on the way home (Jackie, remember Elizabeth loves you). This is one of my favorite sections of the memoir.
I enjoyed the flashbacks to Kay's childhood and other points in her life such as when she was at University. These added depth to the memoir so it wasn't just about tracing her birth parents. I found myself shocked by some of the racism she experienced but not surprised. People are afraid of what's different and try to destroy it.
RATING

Up next: Dream Angus by Alexander McCall Smith. This is also a library book and another entry in the Canongate Myth series.