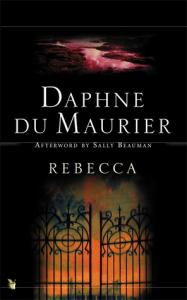 Rebecca by Daphne Du Maurier
Virago Press (Paperback), 2007, First Published In 1938
251 Pages
This book is part of my Popsugar reading challenge 2015 (http://www.popsugar.com/love/reading-challenge-2015-36071458). The category for this book is 'a book with a one word title' 
BLURB FROM THE COVER
Last night I dreamt I went to Manderley again…
Working as a lady's companion, the heroine of Rebecca learns her place. Her future looks bleak until, on a trip to the South of France, she meets Max de Winter, a handsome widower whose sudden proposal of marriage takes her by surprise. She accepts, but whisked from glamorous Monte Carlo to the ominous and brooding Manderley, the new Mrs de Winter finds Max a changed man. And the memory of his dead wife Rebecca is forever kept alive by the forbidding housekeeper, Mrs Danvers…
Not since Jane Eyre has a heroine faced such difficulty with the Other Woman. An international bestseller that has never gone out of print, Rebecca is the haunting story of a young girl consumed by love and the struggle to find her identity.
EXTRACT
Last night I dreamt I went to Manderley again. It seemed to me I stood by the iron gate leading to the drive, and for a while I could not enter, for the way was barred to me. There was a padlock and a chain upon the gate. I called in my dream to the lodge-keeper, and had no answer, and peering close through the rusted spokes of the gate I saw that the lodge was uninhabited.
REVIEW
This was my first time reading Rebecca. I've only read one other Du Maurier novel, Jamaica Inn which I thought was pretty great.
I loved Rebecca. Du Maurier's novel ticks all the boxes: great plot, great characters and great writing. I loved how sinister and foreboding the novel is in places. The narrator and heroine of the novel is never named, which I found very interesting. Rebecca could and has been dismissed as a gothic romance. The novel is much more than the sum of its parts. Rebecca is moving, haunting, creepy, sinister and atmospheric. Manderley is central character and haunts the lives of Maxim, Rebecca and his new wife. Who doesn't love evil old Mrs Danvers? What a creepy old bitch she is. Maxim is pretty nasty. He's murdered his first wife, Rebecca and gotten away with it. We only have his word that she was evil, vicious and promiscuous. He as good as kills his second wife by sucking the life, happiness, energy and soul right out of her. What a piece of work! I found Maxim's second wife fascinating. She's so bland and insipid she doesn't even get a name. Rebecca is a cracking read.
RATING