You probably know that Liverpool have a massive Pre-Raphaelite exhibition on at present.
Pre-Raphaelites: Beauty and Rebellion
is currently running at the Walker Art Gallery (yes, I intend to claim that gallery at some point) until 5th June and the Walker family will be pottering up north to see it in April.  In advance of this, the kind people at Liverpool University Press sent me a copy of the catalog to review.  Well, thank you very much...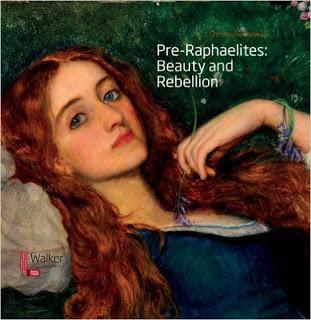 This is a small, affordable catalogue, filled with good quality illustrations and a lot of interesting research on Liverpool's place in the Pre-Raphaelite story.  I'm liking the trend for mini-catalogues: don't get me wrong, I adore a massive £30 monolith filled with gorgeousness, but sometimes, if you already have a ton of books on the subject, a smaller catalog is just as satisfying and won't break the bank or your back getting it home.  At £15, this is really good and contains many images I was not familiar with. What more can you ask for?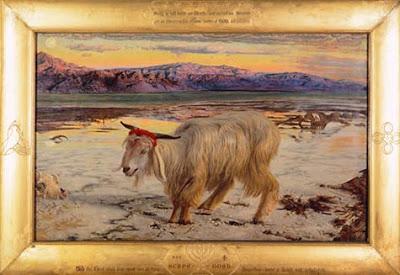 The Scapegoat (1854-5) William Holman Hunt
The angle the exhibition takes is a rather contemporary one: Dissatisfied with how London-centric everything was, Liverpool decided to take matters into its own hands, culturally speaking.  In the Georgian period, men were making money in new industries and began to pour it back into the local community, with institutions , schools and libraries, as well as building personal cultural collections.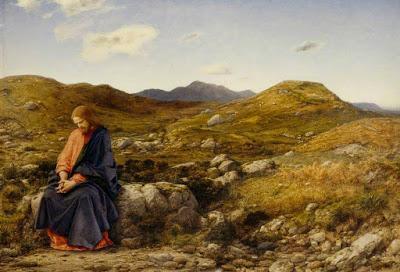 Man of Sorrows (c.1859) William Dyce
The formation of the Liverpool Academy in 1810 began a run of exhibitions, lasting until the 1860s, which featured such superstars of the day such as Lawrence, Etty and Turner.  The Academy offered to pay transport costs to get the art from London (and ship it back if it didn't sell) and held its annual exhibition in September making it fall comfortably apart from the Royal Academy's May exhibition.  If your work didn't sell in May, then it became a staple to try again in the autumn.  By the 1820s, Liverpool Academy's exhibition gained national importance, reported in the newspapers and drawing the best art and artists.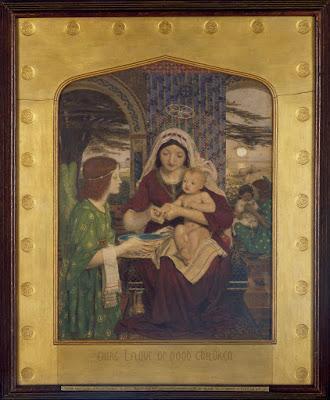 Oure Ladye of Saturday Night (1847) Ford Madox Brown
By 1851, the census recorded that Liverpool had the greatest number of artists living in a city beside London. It is unsurprising that it would draw the interest of the Pre-Raphaelites.  A number of Ford Madox Brown's pictures were seen for the first time in Liverpool including
Oure Ladye of Saturday Night
(also known as
Our Lady of Good Children
) which had been rejected by the Royal Academy in 1847.  The
Art Journal
of 1853 reported 'the Liverpool Academy has a decided penchant for Pre-Raffaelitism'.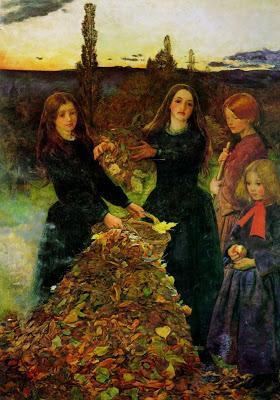 Autumn Leaves (1856) John Everett Millais
The catalog itself is split into two sections.  The first covers the paintings that graced the walls of the Liverpool Academy exhibitions, including ones such as
Autumn Leaves
(1856) by Millais which aren't actually in
Beauty and Rebellion
.  There are pictures by the Pre-Raphaelite Brotherhood, and their followers such as Arthur Hughes, John Brett and George Price Boyce, as well as lesser known artists such as Frederick Smallfield.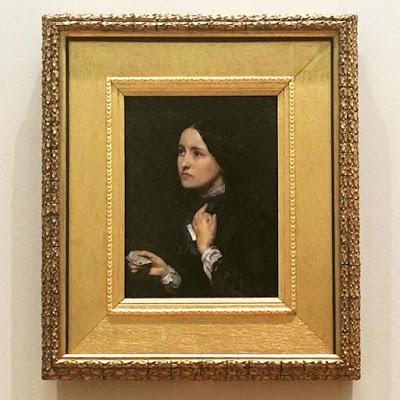 Wedding Cards: Jilted (1854) John Everett Millais
The second part of the book concentrates on the Liverpool patrons, those men who made their money and invested in paintings, such as John Miller, Frederick Leyland and William Hesketh Lever, whose works became the Lady Lever Art Gallery.  It is obvious that William Holman Hunt did very well up north as many of his works are included, but there are also pictures by Rossetti, Burne-Jones and Millais' gorgeous
Wedding Cards: Jilted
.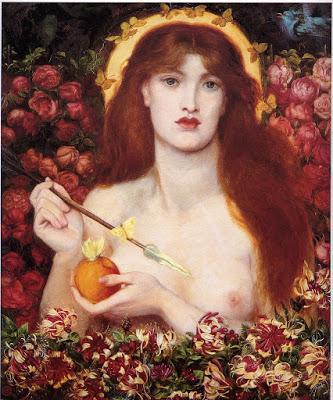 Venus Verticordia (1863-8) Dante Gabriel Rossetti
Because I am married to Mr Walker, the curator of the Russell-Cotes Art Gallery, another collections made by a Victorian art lover, I already have an interest in the people who patronised the artists I love so much.  In fact
Venus Verticordia
from the Russell-Cotes is on display in Liverpool because it belonged to Mr Mitchell of Bradford but watercolour copies were requested by Liverpool patrons George Rae and William Hesketh Lever. It is another way of looking at art and artists because it has to be acknowledged that at times artistic inspiration came out of necessity.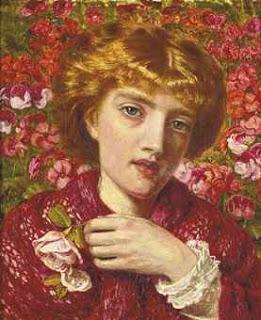 The Gardener's Daughter (1868-9) John Ingle Lee
The catalog is a smashing taster of the exhibition, making me eager to see it, but also if I was unable to travel to Liverpool, it covers the themes and subject well in an informative and enjoyable way.  The paintings are beautifully reproduced, some with their frames, but if I had to have a criticism (and it is a petty one) spreading an image over more than one page really doesn't work successfully without cracking the spine to see it all.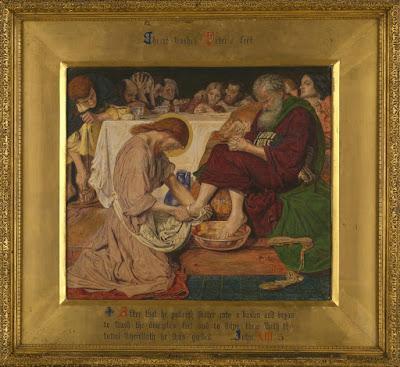 Jesus Washing Peter's Feet (1852-6) Ford Madox Brown
To buy this lovely book, go to the Walker Art Gallery shop here where you will also find further information on the exhibition. It is no doubt available through Amazon or your local bookshop too.  A lovely addition to anyone's Pre-Raphaelite library and an interesting path of research.