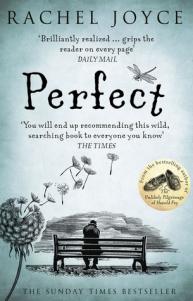 Perfect by Rachel Joyce
Black Swan (Paperback), 2013
448 Pages
BLURB FROM THE COVER
Summer, 1972: In the claustrophobic heat, eleven-year-old Byron and his friend begin 'Operation Perfect', a hapless mission to rescue Byron's mother from impending crisis.
Winter, present day: As frost creeps across the moor, Jim cleans tables in the local café, a solitary figure struggling with OCD. His job is a relief from the rituals that govern his nights.
Little would seem to connect them except that two seconds can change everything.
And if your world can be shattered in an instant, can time also put it right?
EXTRACT
In 1972, two seconds were added to time. Britain agreed to join the Common Market, and 'Beg, Steal or Borrow' by the New Seekers was the entry for Eurovision. The seconds were added because it was a leap year and time was out of joint with the movement of the Earth. The New Seeks did not win the Eurovision Song Contest but that had nothing to do with the earth's movement and nothing to do with the two seconds either.
REVIEW
Rachel Joyce is also the author of a book I read recently, The Unlikely Pilgrimage of Harold Fry.
I loved Perfect. Joyce offers one of those rare novels that are much more than the sum of its parts. At the surface, Perfect appears to be quite light and almost frivolous in parts. There is darkness lurking beneath and this gradually bubbles to the surface. Perfect is a beautiful but sad novel. My heart ached for poor Byron/Jim and how his childhood loss fractured his young life and broke his sanity. I had a good cry at the end when the two boys are reunited as old men. Perfect is the sort of novel that grabs a hold of your heart and gives it a good hug. I would highly recommend this novel.
RATING