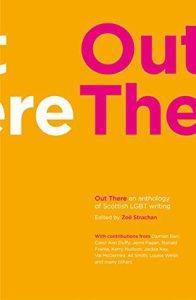 Out There: An Anthology Of Scottish LGBT Writing
Freight Books (ebook), 2014
192 Pages
Publisher Website Listing
Amazon (UK)
I borrowed this ebook from my library and read it on my Kobo.
BLURB
In the year that Scotland votes on independence from the rest of the UK, Freight Books brings a new and definitive anthology of poetry and prose writing from Scotland's leading and emerging LGBT writers, including the likes of Ali Smith, Louise Welsh, Kerry Hudson, Jackie Kay, Ronald Frame, Toni Davidson, Val McDermid, Damian Barr and many others. The writing will be as provocative, thoughtful, moving and as fully-charged with energy as one would expect from the country's celebrated community of LGBT artists. Edited by award-winning novelist Zoe Strachan.
EXTRACT
Dandyism to Debauchery
For K.L
By Janette Ayachi
Women laugh and spill their drink
Dissolving after midnight
When everything is jocular
Glasses are refilled in circuits
As smoothly as the songs play
Like spider-string tumbleweed
Crashing against our ankles
A crenellation of waves over rocks
REVIEW
Out There is an uneven collection of poetry and short fiction. I loved all of the poems. I'm really into poetry just now so the poems scattered throughout the collection were like finding a bar of chocolate hidden away in a coat pocket. My favourites were the poems by Janette Ayachi, Carol Ann Duffy and Jenni Fagan. Some of the stories are excellent in particular The Man In The Mirror Damian Barr, The Fine Art of Finding a Safe Place to Pee by Jo Clifford and Generations by Kerry Hudson. The other stories were okay but nothing special. This meant the collection didn't fit as good together as it could have. I couldn't help feeling that Out There was put together to make some political statement about being LGBT rather than anything to do with the quality of the work. I found the collection quite disappointing.
RATING