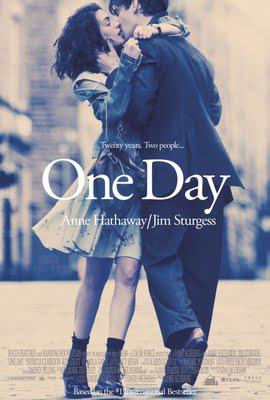 Film poster (source: IMDb.com)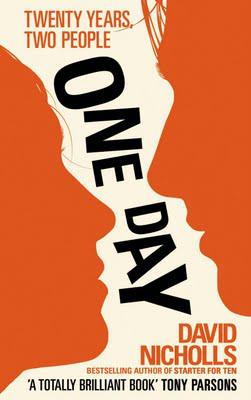 Book cover (source: amazon.com)
I love reading, and I used to get through a book a week! But since I started my A levels I became pretty lazy with it, so this summer I was determined to start reading again. And 
I have just finished the lovely novel One Day 
by 
David Nicholls. Heard of it? Well I don't know how you could not have heard of it, it's everywhere! On trains, in cafes, in waiting rooms; people of all ages are engrossed in One Day!
It tells the tale of two people, Em and Dex, who become friends after a near one-night-stand on the 15th July 1988. Each chapter focuses on what they are doing on this date every year for the next 20 years, sometimes they are together, sometimes they are not. 
Nicholls keeps you gripped as each chapter ends leaving you wondering what's going to happen next but then the next chapter begins set a year later and the situation has completely changed in surprising and interesting ways. 
Nicholls creates characters which seem both real and likable; Emma is a funny, directionless, honest girl and Dexter is an arrogant, charming, handsome guy. And although they may not be a match made in heaven you skick with them as the book takes us through their will-they-won't-they relationship.
Reading it, you can't help but draw comparisons between Nicholls and Nick Hornby, in that they both write in a simple and frank style. 
Hornby has said that he thinks One Day is a "one-off love story", which is exactly how I feel about it; the novel is not only hilarious, and memorable, but is also emotional and unbearably sad. 
One Day was published in 2009, so why now, in 2011, has it become such a hit? Well, Nicholls has now adapted his book into a screenplay and the film is starring two pretty huge actors: 
Anne Hathaway as Emma and Jim Sturgess as Dexter. The film has been directed by An Education's Lone Scherfig and is out this month, I cannot wait to see it!