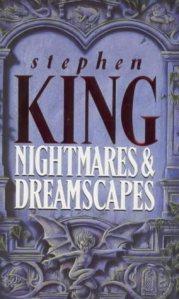 GENERAL INFORMATION
TITLE: NIGHTMARES & DREAMSCAPES
AUTHOR: STEPHEN KING
PAGES: 836
PUBLISHER: NEW ENGLISH LIBRARY
YEAR: 1993
GENRE: SHORT FICTION
COVER TYPE: PAPER BACK
http://en.wikipedia.org/wiki/Nightmares_%26_Dreamscapes
ADAPTATIONS: The Night Flier and Dolan's Cadillac were adapted into films of the same name. Chattery Teeth was adapted as part of the film 'Quicksilver Highway'. Sorry, Right Number was adapted as part of an episode of 'Tales from the Darkside'. The Moving Finger was adapted into an episode of the TV show 'Monsters'. Home Delivery and Rainy Season were adapted into short films. Crouch End, Umney's Last Case, The End of the Whole Mess, The Fifth Quarter and You Know They Got a Hell of a Band were adapted for the TV mini-series 'Nightmares and Dreamscapes: From the Stories of Stephen King'.
BLURB FROM THE COVER 
The Stephen King amusement park – an unnerving experience, with rides every which way to hell – and a few to glory. 
A solitary finger pokes out of a drain. Novelty teeth turn predatory. The Nevada desert swallows a Cadillac. Meanwhile, the legend of Castle Rock returns and grows on you. What does it all mean? What else could it mean? Stephen King is back with a powerful new collection of stories – a vast, many-chambered cave of a volume. 
In story after story, the long reach of Stephen King's imagination and the no-holds-barred force of his story-telling will take you places you've never been before. On a roller-coaster through the macabre and monstrous, via cutting-edge explorations of good and evil – and on to a heartfelt piece on Little League baseball. 
You will lose a good deal of sleep. But Stephen King writing to beat the devil will do your dreaming for you.
EXTRACT 
I waited and watched for seven years. I saw him come and go – Dolan. I watched him stroll into fancy restaurants dressed in a tuxedo, always with a different woman on his arm, always with his pair of bodyguard's bookending him. I watched his hair go from iron-grey to a fashionable silver while my own simply recede until I was bald. I watched him leave Las Vegas on his regular pilgrimages to the West Coast; I watched him return. On two or three occasions I watched from a side road as his Sedan DeVille, the same color as his hair, swept by on Route 17 toward Los Angeles. And on a few occasions I watched him leave his place in Hollywood Hills in the same gray Cadillac to return to Las Vegas – not often, though. I am a schoolteacher. Schoolteachers and high-priced hoodlums do not have the same freedom of movement; it's just an economic fact of life (DOLAN'S CADILLAC)
REVIEW
DOLAN'S CADILLAC: A man avenges the murder of his wife at the hands of a rich thug by burying him and his bodyguard's alive in the Nevada desert inside his Cadillac.
This is one of the best stories in this collection. It's almost a novella at over 70 pages. I love Dolan's Cadillac. I think it's a great story. King offers something very original and gripping.
THE END OF THE WHOLE MESS: A genius discovers what he believes to be a cure to human nature (i.e. inherent meanness and violent tendencies) in the water of a small Texas town and infects the water of the world. Unfortunately, this cure causes early onset Alzheimer's disease and other similar illness and wipes humans off the face of the earth.
This is also one of the strongest stories in the collection. I think it's original and great and also very sad. I like the way The End of the Whole Mess is written. The genius is dead after being injected with the 'cure' by his brother who then injects himself. The brother writes the story of what happened down and gradually starts to succumb to the effects. The TV adaptation is very good as well.
SUFFER THE LITTLE CHILDREN: An elderly school teacher starts to believe she can see the children in her class turn into monsters. She manages to kill twelve of them before she is stopped and locked up in Juniper Hill, an asylum.
I think this is a great story as well. I found Suffer the Little Children kind of sad. King doesn't make it clear if the teacher is insane or if the children really are turning into something nasty. I like the gray area offered. The end of the story hints the teacher might have really seen something.
THE NIGHT FLIER: A reporter for trashy tabloid Inside View investigates a series of brutal murders at airports all over the US. He believes the killer has a pilot's license and a private plane and discovers this is correct but the killer is a vampire.
This is one of the okay stories in the collection. I like King's original twist on vampires that stable subject matter of horror fiction. I just wasn't very impressed with the story and I'm not quite sure why. A vampire with a private plane? Really? I thought they could fly? Har-de-har. It's widely publicised after the second or third murder what the registration of the suspected killer's plane is so why do people keep clearing him to land so more people turn up dead? A few things niggled me about this story.
POPSY: A man who kidnaps children and hands them over to a paedophile in exchange for money lifts a child whose grandfather happens to be a vampire. Grandpa tracks the man and makes him pay for touching the boy.
Unlike, The Night Flier, I thought this story was great. I found it sort of funny so maybe I have a twisted sense of humor.
IT GROWS ON YOU: A group of old men in Castle Rock discuss the infamous Newall house, a local legend. The house was built by a man for his fat, rich wife and has been the setting for misery, disaster and suicide. One man recalls Cora Newall flashing him once when he was a teenager and how this made him ejaculate into his pants. He compared every sexual experience with that moment. The man dreams about this and has a massive heart attack when he gets an erection. A new wing starts to go up on the house even though it hasn't been occupied for years.
I think this story is really good. I love it when King writes about Castle Rock, the fictional small town a lot of his work is set in. In his accompanying notes about some of the stories King mentions the old men in this story are the survivors of the tragedy that closes his novel Needful Things. I found this story quite creepy and unsettling in some places.
CHATTERY TEETH: A traveling salesman buys a huge set of novelty teeth from a store in the middle of nowhere. He buys them because he loved this stuff when he was a kid and he thinks his young son might like him. He picks up a hitchhiker who pulls a knife on him. He refuses to comply with the young man's demands to hand over his car and crash it instead. The teeth come to life and free the salesman from the smashed vehicle before dragging the hitchhiker into the desert to eat him.
This is a well written story but I don't think it's very good. The movie adaptation is awful. It's a sort of crass, pulpy horror story. I think King is capable of writing something much better.
DEDICATION: A black maid is delighted when her son publishes his first novel and seems destined for success and literary stardom. She tells her friend and fellow maid his natural father was not her late husband who beat her but a white man, also a writer. Her tale touches on black magic involving eating the white man's ejaculated sperm and feeding the man a strange mushroom.
I think this story is great. King offers something quite unique with this story. I found it very sad and touching at times. In his accompanying notes about some of the stories King mentions this story is a trial run for his novel Dolores Claiborne. I don't see the link between the two.
THE MOVING FINGER: A man struggles to hold onto his sanity when a finger emerges from the sink in his bathroom. The finger is not attached to anything else and is longer every time he sees it. No one else can see it. He is unable to use the bathroom because of this and tries various ways to get rid of it.
The events that take place in this story sound like the worst sort of crass, pulpy horror fiction and the story would be just that in the hands of another writer. King makes this a great story. I thought it was quite funny and also a little sad. I wondered if Howard really saw the finger or hallucinated the whole thing.
SNEAKERS: A man sees a dirty old pair of sneakers in the men's room of the recording studio where he works. Each time he sees them there are more and more dead flies around them. He learns the studio is supposed to be haunted by the ghost of a drug dealer who was murdered and whose arm was hacked off so his briefcase containing a wad of money could be stolen.
I think this is a great story. I read it first many years ago in a Night Visions anthology with stories from a few writers. King offers a very original ghost story with Sneakers.
YOU KNOW THEY GOT A HELL OF A BAND: A young couple get lost in the middle of nowhere and end up at what appears to be a picture perfect town called Rock and Roll Heaven. They realize the town is populated by famous dead musicians including Janis Joplin and Roy Orbison. They try to escape but are captured and forced to watch a concert at the town common. It becomes clear they are never going to be allowed to leave.
This is one of my favorite stories in this whole collection. King offers something breath-taking and original. One some levels this story is quite funny but there's a chilling under layer that sends shivers down my spine.
HOME DELIVERY: A pregnant widow, still grieving the death of her husband struggles for survival when the dead start to rise all over the US. She lives in a small town and her male neighbours do their best to protect her when the epidemic reaches them. Her husband returns and she is forced to kill him once again. She worries about what the future will hold for her unborn child.
This is also one of my favorite stories in the collection. King offers us his version of the zombies-taking-over-the-world story. I'm not a fan of zombies in fiction or film. They have a tendency to be gross and pointless. King makes this work with this story. There is a lack of gore and King focuses more on survival.
RAINY SEASON: A young couple rent a cottage in the small town of Willow, Maine for the summer. When they arrive they are greeted by a group of locals who warn them to stay out of town for the night because a rain of toads is expected. The couple think this is a joke and settle down in the cottage. They are wakened in the middle of the night by a rain of millions of toads with fangs like razors. They retreat to the cellar of the cottage but the toads get them in the end.
This is also a great, original story. This is an example of what King can do when he puts his mind to it. I found some parts of this story pretty funny especially the descriptions of the weird-looking toads.
MY PRETTY PONY: A young man receives some life lessons from his aging grandfather. The old man points out that there are three types of time. He refers to the long endless summers that seem to last forever, real time which he nicknames a pretty pony that can run away too fast if you don't keep an eye on it and the third time of time happens when you get older and seasons stop being distinctive and you start to lose track of things more.
I think this is a great little story. It's very different from other stories in the collection and one of the best. I thought it was quite a sad and an emotional piece. I felt some things the old man told his grandson were quite accurate.
SORRY, RIGHT NUMBER: A woman receives a phone call from someone whose voice she recognises, another woman. The woman can hardly speak through tears and only manages a couple of words before the line goes dead. She recognises her voice and thinks it is a family member. She contacts everyone in her family and gets nowhere. Later on that night her husband has a heart attack and dies. Years later, on the anniversary of his death and dials her old telephone number by mistake and speaks to her past self, implying the voice she heard on the phone the night her husband died was her future self.
I think the concept behind this story. The real issue is that king writes this in the form of a screenplay. I hated this and the format came across as cheap gimmick. The structure makes the story stand out for the wrong reasons. I just couldn't enjoy it.
THE TEN O'CLOCK PEOPLE: A man leaves his office one morning for a cigarette break and sees a man with a head like a massive mutated bat. Before he can scream a man pulls him away. The stranger tells him that these bat-people dubbed are all over the city and the only people who can see their true forms are smokers. If they know someone can see them they kill them. There are a small group of people who can see the batmen and who want to find a way to stop them. The man joins the group. At a meeting the group are betrayed by their leader who had sold them to the batmen and a bloody battle ensues.
I think this story is great. It's a very good and sort of twisted sci-fi story. I thing King offers something quite original with this one. I really liked it when the group were betrayed and this led to a big battle.
CROUCH END: An American tourists stumbles in a police station in London with an extraordinary story about her missing husband. They stumbled into a strange place in London, a thin place where the line between reality and fantasy can break. Her husband was taken by a strange tentacle monster.
I really think this macabre tale. King was clearly inspired by Lovecraft. It's creepy and surreal and very well written.
THE HOUSE ON MAPLE STREET: Four children discover their home appears to be turning into some kind of spaceship when metal starts to appear everywhere. They see this as the perfect opportunity to get rid of their mother's abusive new husband. When a timer starts to count down they lock him inside seconds before blast off.
This is a fun story. Fun and original.
THE FIFTH QUARTER: A man discovers that his simple minded, best friend has been killed and betrayed by the gang of criminals he was working for. He spoke to his friend before he died and promise to make the criminals pay so he does.
I'm not a huge fan of this story. It's a crime story but offers nothing new or original. It's just sort of average.
THE DOCTOR'S CASE: Sherlock Holmes and Watson are called in to solve a strange locked room murder mystery. A rich man was killed in his story when he was apparently alone. The motif appears to be a recent change in his will to favour three of his children over his other, physically disabled son. Watson solves the case before Holmes.
This is a great, fun story. King offers us his version of Sherlock Holmes. He sticks pretty close to Arthur Conan Doyle's style but I really liked it.
UMNEY'S LAST CASE: Umney, a sort of sleazy private detective in the thirties realises there is something very wrong in his world. Peoria, the blind boy who begs in front of his building is moving because his family won the lottery and a doctor can make him see. His co-worker is retiring and his secretary has changed her name and left her job. He discovers he is a character is a series of best-selling novels and the writer wants to switches places with him because his wife has just committed suicide after the death of their son. The writer pulls it off and Umney ends up taking over the writer's life. Umney becomes determined to find a way to write his life back.
This is a great, very original and very clever story. I found it engaging and a joy to read.
This collection also contains the non-fiction baseball essay Head Down and a poem called Brooklyn August. I didn't read these so obviously won't be reviewing them.
FINAL THOUGHTS
I think Nightmares & Dreamscapes is King's weakest collection of short stories. There are some great stories like Dolan's Cadillac, It Grows On You, Dedication and Umney's Last Case. There are some good stories like The Moving Finger. I just think there are too many duds that spoil this collection. I also felt at over 800 pages it was a little on the long side for a story collection. The dud stories like The Night Flier and Chattery Teeth could have be cut out and this would be a much stronger collection.
RATING