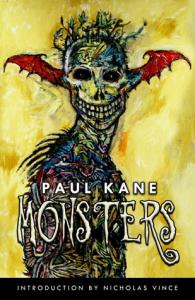 Monsters by Paul KaneAuthor Website
Amazon (UK)
I was given a free copy by the publisher in exchange for a review.
The Alchemy Press (ebook), 2015318 Pages
BLURB
Be afraid. Be incredibly afraid...because the Monsters are here! One man starts to suffer from a strange affliction, as another seeks knowledge of the future - with dire consequences. A young boy gets more than he bargained for when he receives a unique Christmas present, while a lonely man battles creatures that live in the darkness. And as a rescue expedition finds strange animals in the jungle, one man's wife returns from the grave to be with him once more... Vampires, werewolves, zombies, witches, this collection from the imagination of award-winning and bestselling author Paul Kane has them all! Including the first reprint of 'Dracula in Love' in over a decade, the original short story the movie Weeping Woman was based on and all three parts of the 'Life Cycle' trilogy (begun in the late '90s and concluding with the brand new 'Lifetime'), plus an introduction by Nicholas Vince (who portrayed Chatterer Cenobite in the Hellraiser movies and Kinski in Nightbreed) and cover art by the legendary Clive Barker, this is one book you really should be afraid to miss!

OPENING SENTENCE
There's nothing like a good night out (NIGHTLIFE)
REVIEW
Monsters is a well-written and thoroughly enjoyable collection of stories. I loved all the different ways the author interprets the idea of monsters. The collection contains stories about common horror monsters including werewolves, vampires and zombies. The author writes about these well used creatures in fresh and interesting ways. One of the best examples of this is the zombie story, Pay the Piper. I loved how the traditional take about the Pied Piper and the idea of zombie's blends in this story. The collection contains a triptych of werewolf stories; three stories dealing with the same characters at the start, middle and end of the collection ( Nightlife, Half-Life and Lifetime). These stories were among my favourites. Others included The Disease, A Chaos Demon Is For Life, St August's Flame, Guilty Pleasures, Speaking In Tongues and Rag And Bone. I enjoyed all of the stories but these stood out a little more. Monsters is an excellent collection of horror stories.
Stories included:
The Ugly
Nightlife
The Disease
Sabbat
Dig (This)
A Chaos Demon Is For Life...
St August's Flame
Keeper Of The Light
Dracula In Love
Half-Life
Guilty Pleasures
Speaking In Tongues
Star-Pool
Rag And Bone
The Weeping Woman
Pay The Piper
It's All Over...
Lifetime