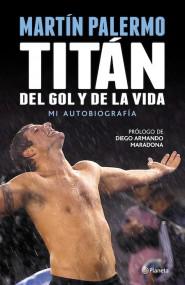 To categorize him would have been injustice as to all the things he did despite his limitations.  Many said he didn't have many of the tools to be a world-class goalscorer; but those odds were overcome quite easily in the eyes of many people.  Martín Palermo is amongst the football Gods in Argentine football.
Yet through all of that,  it was his vulnerability and flaws as a player that made him even more captivating to appreciate throughout his record-breaking career.  His numbers, his mystique and his multiple comebacks made him Boca Juniors all-time leading scorer.
His life, many have said, is worthy of a Hollywood movie. Anyone to have been able to write a script like the one that his career and life have offered would be questioned as to the use of psychadelic recreational drugs in the process.
In Martín Palermo's autobiography, El Titán Del Gol Y La Vida (The Titan Of Goals and Life) Palermo, which has broken records for sales in Argentina so far, candidly talks about all of his highest highs and his lowest lows. Here we see Martín being able to step away from the moments that were marked his life and be able to reflect upon them as well as his reactions.
The voice was very much like the older and wiser Martín stepping in and out of certain instances in his life were he would reflect and admit to his mistakes but then also admit that there were lessons to be learned from those particular moments such as dressing in drag and even some of the celebrations he had after scoring many of his goals. Even to a certain point, the 100th goal of his career would also fall into that category as he had torn his ACL a few minutes before that, thus, aggravating the injury even more.
Of course, he did remind himself of certain players such as former Villarreal teammate Victor.  He mentioned at one point in the book that "he never let go of the ball" and he would "send a cross my way once every three games."  Where he was most poignant was when he pointed out certain instances during his time at Boca where his once positive relationship with Juan Román Riquelme eroded into what it has become today.
Just like any other autobiography, he let out some interesting nuggets such as how hard a negotiator Mauricio Macri was when he was looking to make his return to Boca.  He was well aware that Macri was like that in an effort to protect the club's money.  He also lashed out at former coach Jorge Benítez for the attitude he had after being sacked and the way he treated one of his strength and fitness coaches more out of jealousy than out of camaraderie.
He was such a unique character in the football landscape.  Carlos Bianchi once said about Palermo, "His detractors fed him and his injuries helped him tap into his reserve morale.".  Of course the injuries he suffered throughout his career would have ended or at least hampered his career.  Many considered him a warrior that rose from the ashes several times over and continued to battle.
There were moments that were pure Hollywood in Palermo's career.  The first one was after he recovered from his first serious injury and would return in a Copa Libertadores quarterfinal matchup against River Plate.  The moment I remembered most though was that second goal against Greece.   Those were the ones where you felt the emotion just fly out of the pages.
When Peru scored the 1-1 I thought we were done.  At that moment I forgot about Palermo.  I can say that there was another miracle by St. Palermo tonight.  My goals were normal.  He just touches the ball once and, he makes you smile even in the most complicated of times. When people chant, "Put in Palermo, motherfucker," it's all fine.  Tota will not be upset because she knows that if I bring in Palermo, he will save us                                                      - Diego Maradona after win against Peru
Palermo also talked about how he experienced hurricane preparations during his first international match upon his return.  Boca Played Peruvian side Cienciano in Ft. Lauderdale back in 2004 with the Recopa on the line.  At the same time South Florida natives were preparing for Hurricane Frances to make landfall. That would not occur and the match would be played.  In the end, it would be the Copa Sudamericana champs that would beat the Xeneize in penalty kicks at Lockhart Stadium that year.
More importantly, he explained that his body could not take another preseason- especially his right knee.  This was the reason he did not regret his retirement, even though Boca would win the league title the following semester.
Overall, Palermo's book was a very interesting view of the life and times of a player that marked an era in Argentine football.  His records might never be shattered, but one thing is for sure, his legacy is well etched in Boca and Estudiantes lore. His goals not only gave color to the game, they also were able to make believers out of skeptics. It is a very entertaining book with some of his most memorable moments as well as some intimate situations where you gain an appreciation for the man.
For fans there are quotes scattered all throughout talking about him as a player, a teammate and a person.  There is also an appendix where several of his records are broken down in detail. The book a must read for fans of the Beautiful Game about one of its most colorful characters. Most importantly he told a story in simple terms.  Martín was able to tell his story his way and that was what made reading this book so enjoyable. That is a major compliment to Miguel Bossio who wrote the book alongside Palermo.
Unfortunately there are no copies in English as of right now, that should be changing in the near future, we will keep you informed about this. Right now copies can be bought in Spanish either in paperback or as an ebook.