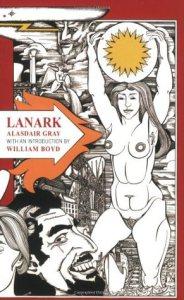 Author Website
Amazon (UK)
Amazon.com
BLURB
From its first publication in 1981, Lanark was hailed as a masterpiece and it has come to be widely regarded as the most remarkable and influential Scottish novel of the second half of the twentieth century. A work of extraordinary imagination and wide-ranging concerns, its playful narrative conveys at its core a profound message, both personal and political, about humankind's inability to love, and yet our compulsion to go on trying. With its echoes of Dante, Blake, Joyce, Kafka, and Lewis Carroll, Lanark has been published all over the world and to unanimous acclaim.
OPENING SENTENCE
The Elite Café was entered by a staircase from the foyer of a cinema.
REVIEW
I read this for the 'a book recommended by a friend' category of my Popsugar Reading Challenge 2015. This is my second read-through. Lanark is one of the best books I've ever read so I'm looking forward to my second reading. I have a friend who's a book lover as well. We have very different tastes. This is the only thing he's recommended that I actually liked.
Lanark is one of my favourite books of all time. I'd consider it to be Gray's magnum opus. I love the way the novel is split into four segments and the story of Thaw and Lanark isn't told in chronological order. This works really well. I enjoyed the Thaw sections the best. They seem to be based at least in part of Gray's life and are really enjoyable. I liked Lanark's sections better in the second time around. These are very different than Thaw's sections and can be hard to adjust to for a first time reader. Lanark draws inspiration from the work of William Blake and Dante's The Divine Comedy. I love Blake's work. A colour illustrated copy of his Songs of Innocence and Experience is a treasured possession. I also love The Divine Comedy. I have a battered copy that I've read. Lanark is brilliant, original novel - of a very rare and wonderful kind. I gave Grey's debut novel 4 stars the first time I read it but enjoyed it better the second time.