Posted in A.C. Wise, A.M. Dellamonica, Ada Hoffmann, Amal El-Mohtar, ARC, Catherine MacLeod, Cory Doctorow, Courtney Bates-Hardy, David Clink, David Nickle, Eric Choi, Fiction, First Read, Gemma Files, Greg Bechtel, Helen Marshall, Holly Schofield, Jean-Louis Trudel, Jeremy Butler, Jocko Benoit, Kate Story, Kelley Armstrong, Lisa L. Hannett, Louisa Howerow, Matt Moore, Matthew Hughes, Matthew Johnson, Michael Libling, Nalo Hopkinson, Neile Graham, NetGalley, Peter Chiykowski, Peter Watts, Puneet Dutt, Ranylt Richildis, Rhonda Parrish, Rio Youers, Shivaun Hoad, Short Fiction, Silvia Moreno-Garcia, Siobhan Carroll, Suzanne Church, Tony Pi, Trevor Shikaze, Zsuzsi Gartner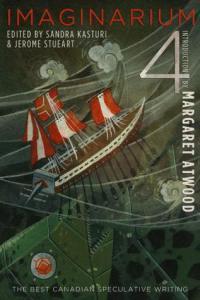 Imaginarium 4: The Best Canadian Speculative WritingPublisher Website
Amazon (UK)
Amazon.com
I got an ARC from the publisher via NetGalley.
Chizine Publications (ebook), expected publication date 12 January 2016336 Pages
What It's About
Imaginarium 4: The Best Canadian Speculative Writing is a reprint anthology collecting speculative short fiction and poetry (science fiction, fantasy, horror, magic realism, etc.) that represents the best work published by Canadian writers in the 2014 calendar year.
Opening Paragraph
McGill smoked in the yard. They wouldn't let him smoke inside. There was a baby there after all. McGill said he understood, but seemed pissed off about it. He stood by the barbecue, squinting at the tree line, calculating the hour, tapping ashes through the grill top. They were pissed off about that. The next round of burgers would have a subtle flavour of McGill and probably the round after those too (THE EXORCIST: A LOVE STORY BY DAVID NICKLE)
What I Thought
I enjoyed Imaginarium 4. I thought the collection had a good mix of stories.
I really enjoyed the range and diversity of the stories. No two stories in the anthology dealt with the same concept so each story contained a surprise. I was impressed by the range on offer.
I thought some of the stories were excellent. The Exorcist: A Love Story by David Nickle used a very interesting concept and I liked the whole-set up. Túshūguăn by Eric Choi was a well-written interesting take on a world in the aftermath of a zombie apocalypse. From Stone and Bone, From Earth and Sky by A.C. Wise was beautiful and disturbing. The Inn of the Seven Blessings by Matthew Hughes was a very enjoyable, mad-cap adventure. The Full Lazenby by Jeremy Butler offered a very interesting tale set in a future world where status is based on how genetically similar you are to dead celebrities.
The anthology contains a few poems. I enjoy reading poetry but genre poetry leaves me cold. The poems didn't do anything for me. I just wanted the author to turn them into a piece of flash fiction.
The standout tale was Man in Blue Overcoat by Silvia Moreno-Garcia. I can't quite convey how much this creeped me out and unsettled me.
The other stories were all strong but those mentioned above struck more of a nerve.
Imaginarium 4 is an enjoyable anthology for people who like speculative fiction. I'd recommend this collection.
Stories included:
Bamboozled by Kelley Armstrong
Witch I by Courtney Bates-Hardy
Witch II by Courney Bates-Hardy
The Smut Story by Greg Bechtel
Kafka's Notebooks by Jocko Benoit
The Full Lazenby by Jeremy Butler
Wendigo Nights by Siobhan Carroll
A Spell for Rebuilding Your Lover Out of Snow by Peter Chiykowski
Túshūguăn by Eric Choi
Jelly and the D-Machine by Suzanne Church
The Perfect Library by David Clink
The Colour of Paradox by A.M. Dellamonica
The Man Who Sold the Moon by Cory Doctorow
Brains, Brains, Brains by Puneet Dutt
The Lonely Sea in the Sky by Amal El-Mohtar
A Wish from a Bone by Gemma Files
We Be Naked by Zsuzsi Gartner
The God of Lost Things by Neile Graham
The Lark, The Peat The Star, and Our Time by Neile Graham
Chant for Summer Darkness in Northwest Climes by Neile Graham
The Beat that Billie Bore by Lisa L. Hannett
The Trial of the Beekeeper by Shivaun Hoad
Self-Portrait as Bilbo Baggins by Ada Hoffmann
The Parable of the Supervillain by Ada Hoffmann
The Mermaid at Seaworld by Ada Hoffmann
Left Foot, Right by Nalo Hopkinson
Return to Bear Creek by Louisa Howerow
The Inn of the Seven Blessings by Matthew Hughes
What You Couldn't Leave Behind by Matthew Johnson
Hollywood North by Michael Libling
Sideshow by Catherine MacLeod
Aversions by Helen Marshall
Death and the Girl from Pi Delta Zeta by Helen Marshall
You're A Winner! by Matt Moore
Man in Blue Overcoat by Silvia Moreno-Garcia
The Exorcist: A Love Story by David Nickle
Hereditary Delusions by Rhonda Parrish
Marotte by Tony Pi
Charlemagne and Florent by Ranylt Richildis
Standard Deviant by Holly Schofield
The Tun by Trevor Shikaze
Demoted by Kate Story
The Snows of Yesteryear by Jean-Louis Trudel
Giants by Peter Watts
From Stone and Bone, From Earth and Sky by A.C. Wise
Outside Heavenly by Rio Youers
RATING
a.c. wise, a.m. dellamonica, ada hoffmann, amal el-mohtar, arc, book lover's boudoir, book review, catherine macleod, cory doctorow, courtney bates-hardy, david clink, david nickle, eric choi, fiction, first read, gemma files, helen marshall, holly schofield, imaginarium 4, jean-louis trudel, jeremy butler, jocko benoit, kate story, kelley armstrong, lisa l. hannett, louisa howerow, matt moore, matthew hughes, matthew johnson, michael libling, nalo hopkinson, neile graham, netgalley, peter chiykowski, peter watts, puneet dutt, ranylt richildis, rhonda parrish, rio youers, shivaun hoad, short fiction, silvia moreno-garcia, siobhan carroll, speculative fiction, suzanne church, the best canadian speculative writing, tony pi, trevor shikaze, zsuzsi gartner