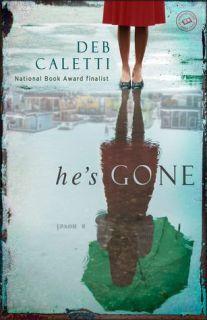 Author Website
Amazon (UK)
Amazon.com
WHAT IT'S ABOUT
From National Book Award finalist Deb Caletti comes an intensely gripping story about love, loss, marriage, and secrets-perfect for readers of Jodi Picoult, Kristin Hannah, and Anna Quindlen.
"One of the best books I've read all year."-Barbara O'Neal, author of The Garden of Happy Endings.
"What do you think happened to your husband, Mrs. Keller?"
The Sunday morning starts like any other, aside from the slight hangover. Dani Keller wakes up on her Seattle houseboat, a headache building behind her eyes from the wine she drank at a party the night before. But on this particular Sunday morning, she's surprised to see that her husband, Ian, is not home. As the hours pass, Dani fills her day with small things. But still, Ian does not return. Irritation shifts to worry, worry slides almost imperceptibly into panic. And then, like a relentless blackness, the terrible realization hits Dani: He's gone.
As the police work methodically through all the logical explanations-he's hurt, he's run off, he's been killed-Dani searches frantically for a clue as to whether Ian is in fact dead or alive. And, slowly, she unpacks their relationship, holding each moment up to the light: from its intense, adulterous beginning, to the grandeur of their new love, to the difficulties of forever. She examines all the sins she can-and cannot-remember. As the days pass, Dani will plumb the depths of her conscience, turning over and revealing the darkest of her secrets in order to discover the hard truth-about herself, her husband, and their lives together.
"A thought-provoking and moving exploration."-New York Times bestselling author Erica Bauermeister.
OPENING PARAGRAPH
I used to imagine it sometimes, what would happen if one day I just didn't come home. Not that I ever considered running off - I could never actually do that, even if I occasionally had that fantasy about driving south and checking in to some hotel. Someplace with bathrobes for sure, I love those. But, no, the thought was less about escape and more about some cruel intervention of fate. What if, say, the clichéd bus hit me as I crossed the clichéd street? The Mack truck. Whatever it was, something terrible would happen and my family would have to return home to find all the daily pieces of my interrupted life. My husband would see my cup of coffee, half finished, a curve of my lipstick on the brim. My mother would see my flannel pyjamas with the Eiffel Towers on them in the laundry basket and the ChapStick on my nightstand. My book would be on the bed, open to the place I'd left off, and my hair would still be entwined in my brush. There would be my really expensive wrinkle minimiser, which honestly didn't minimise much of anything, and my phone charger still plugged into the wall. This is how it would look, I would think. This stuff here.
WHAT I THOUGHT
He's Gone is my first Caletti novel.
I thought He's Gone was brilliant. The suspense builds and builds throughout and the pacing is perfect. I loved the way the story of Ian's disappearance builds slowly, interwoven by revelations about how Ian and Dani ended up together - an affair that ends in two divorces and a new marriage. Caletti's writing is spot on - she knows how to weave a good story. My heart went out to Dani; the hostility (understandable but painful) of her step-children, struggling to hold onto the marriage that cost two families so much, wondering what happened to Ian and coping with the suspicion of the police. Caletti nails it. He's Gone is a great read, packed with suspense, unanswered questions and revelations. I found the ending and the truth about what happened to Ian surprising - and not as dark as my over-active imagination conjured up.
I'd highly recommend He's Gone.