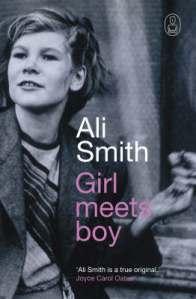 GENERAL INFORMATION
TITLE: GIRL MEETS BOY
AUTHOR: ALI SMITH
PAGES: 161
PUBLISHER: CANONGATE
YEAR: 2008
GENRE: GENERAL FICTION
COVER TYPE: PAPER BACK
http://en.wikipedia.org/wiki/Girl_Meets_Boy
http://literature.britishcouncil.org/ali-smith
BLURB FROM THE COVER 
Girl meets boy. It's a story as old as time. But what happens when an old story meets a brand new set of circumstances? Ali Smith's re-mix of Ovid's most joyful metamorphosis is a story about the kind of fluidity that can't be bottled and sold. It is about girls and boys, girls and girls, love and transformation, a story of puns and doubles, reversals and revelations. Funny and fresh, poetic and political, Girl meets boy is a myth of metamorphosis for the modern world..
EXTRACT 
Let me tell you about when I was a girl, our grandfather says.
REVIEW
Girl Meets Boy is a library book. It is part of the Canongate Myths series like The Fire Gospel, The Good Man Jesus & The Scoundrel Christ and Dream Angus: The Celtic God of Dreams I've read recently.
I loved Girl Meets Boy. Smith offers a well-written, memorable version of the myth of Iphis (http://en.wikipedia.org/wiki/Iphis) from Ovid's Metamorphoses. I loved reading every page. I wish Girl Meets Boy had been several hundred pages longer. I have read another two novels by Smith, The Accidental and There But For The and didn't think much of them. I find it odd that I loved Girl Meets Boy so much. It reminds me of the brilliant story The World With Love in her collection First Love and Other Stories.
I like the way Smith structures Girl Meets Boy. She writes in a stream of consciousness style. This is the first time I have actually enjoyed this style. I think it's is partly because this novel is so short. The opening section alternates between the two characters, Imogen and her sister Anthea and focuses on childhood memories. The rest of the sections alternate between the viewpoints of both sisters using a first person narrator. I liked the way Smith used a first person narrator. This created an intimacy with the characters.
One of the best bits about Girl Meets Boy is the relationship between Anthea and Robin, the female echo warrior she falls for after Robin vandalises the billboard outside the big corporation the sister's work for. Smith perfectly captures the feeling of first love. Anthea's reaction to Robin reminds me of the moment, ten years ago when I fell for another girl. Smith creates a realistic portrayal of falling for someone, how the world is suddenly all shiny and new when you're falling. I loved their relationship. I felt it was realistic and believable. Smith reminded me of my own experiences of coming out. I love the way Smith, gay herself tackles lesbianism in Girl Meets Boy without Robin or Anthea dying or ending up with a man (that happens a lot on bad gay fiction).
I thought the characterisation was great in Girl Meets Boy. Smith manages to make the sisters very real. I loved being inside both of their heads. I especially loved it when Imogen is freaking out about her sister being a gay and her memories of going to the same school as Robin and bullying her. The other character's including their boss at the firm they work for were also very real. I was impressed by how good the characterisation was for such a short novel. A writer has less space for characters to develop.
There are some stand out moments in Girl Meets Boy. My favorite part is the section from Imogen's viewpoint where she's freaking out about Anthea and Robin's relationship. She has an internal monolog as she's going about her daily life. She refers to her sister as a gay. She blames her mother for leaving their father then the Spice Girls. Her thoughts verge on homophobia as she seems obsessed with being normal and wonders if neighbours saw Robin and Anthea embracing and kissing in the street and this means they'll need to move house. This part of the novel is hilarious. Girl Meets Boy features one of the big sex scenes I've ever read where there is no mention of body parts. I also found the sections that deal with the corporation the sister's work for plans to dominate the world with bottled water very witty. I loved it when Anthea and Robin are arrested for covering the city in graffiti protesting women's rights.
I even enjoyed the unusual way Smith chooses to end Girl Meets Boy. Anthea fantasises about getting married to Robin. They have a huge ceremony attended by hundreds of people including family, friends and loved ones who have passed on. I've read some reviews that criticize this but I thought it was great. I thought it showed Anthea's hope for the future and her love for Robin.
RATING

Up next: Archipelago by Monique Roffey. This is a library book.