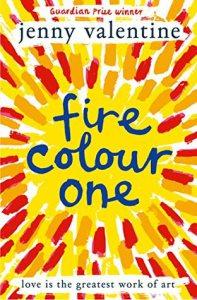 Fire Colour One by Jenny ValentinePublisher Website (Author Page)
Amazon (UK)
Amazon.com
I was given a free copy of this book in exchange for a review by the publisher via NetGalley.
Harper Collins Children's Books (ebook), 2015256 Pages
BLURB
A bold and brilliant novel about love, lies and redemption, from award-winning author, Jenny Valentine - one of the greatest YA voices of her generation.
Iris's father, Ernest, is at the end of his life and she hasn't even met him. Her best friend, Thurston, is somewhere on the other side of the world. Everything she thought she knew is up in flames.

Now her mother has declared war and means to get her hands on Ernest's priceless art collection. But Ernest has other ideas. There are things he wants Iris to know after he's gone. And the truth has more than one way of coming to light.
OPENING SENTENCE
At my father's funeral, after everything, I lit a great big fire in his honour, built from stacked apple crates and broken furniture and pieces of fallen-down tree.
REVIEW
Fire Colour One was brilliant, a joy to read. I loved the fact the book focused on family relationships. A lot of YA fiction focuses on friendship or teenage love or questionable relationships with supernatural creatures. Fire Colour One was a breath of fresh air. I loved then relationships and characters explored in the novel. Iris was a brilliant character; real, made of flesh and blood and a bit screwed up. I loved her. Hannah and Lowell were awful people and all too real. They flocked to dying Ernest like vultures picking the last of his flesh from his bones. I loved it when Ernest tells Iris the truth about his marriage to her awful mother. Thurston was a great character as well. I loved all the art references throughout Fire Colour One. The ending is brilliant, pure genius. Fire Colour One is one of the best YA novel's I've ever read.