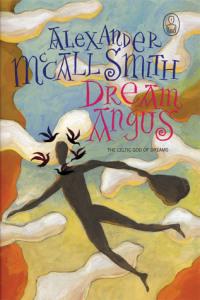 GENERAL INFORMATION
TITLE: DREAM ANGUS (THE CELTIC GOD OF DREAMS)
AUTHOR: ALEXANDER MCCALL SMITH
PAGES: 171
PUBLISHER: CANONGATE
YEAR: 2006
GENRE: GENERAL FICTION
COVER TYPE: HARD BACK
www.amazon.co.uk/Dream-Angus-Celtic-Dreams-Myths/dp/1841959618
www.alexandermccallsmith.co.uk
BLURB FROM THE COVER 
Dreams to sell, fine dreams to sell… 
If he's in the right mood, divine Angus might grant you sight of your true love in a dream; you might even fall in love with him — but he'll never love you back. He's too busy making mischief — stealing the palace of the gods from his father, turning his enemies into pigs etc — until he is trapped by his own romantic games and falls for an unattainable woman, doomed to seek her forever. 
In twentieth-century Scotland, Angus's troubled alter ego searches for his true family and identity; a psychotherapist who helps people understand their dreams, his life seems to parallel that of his mythic namesake, until we ask — could they be one and the same? 
Mesmerically weaving together the tales of the Celtic god and the Scottish scientist, Alexander McCall Smith unites dream and reality, leaving us to wonder: what is life, but the pursuit of our dreams?  
EXTRACT 
This happened in Ireland, but the memory of it is in Scotland too. The precise location of things was not so important then, as there was just he land and the sea between them, and people came and went between the lands, and they were brothers and sisters. The land itself was beautiful, with hills that ran down to the sea, and there were cold green waves that broke on the rocks that marked the edge of the land. There were islands, too, with stretches of white sand, and behind the white sand there was the machair, which was made up of meadows on which grew yellow and blue flowers, tiny flowers.
REVIEW
Dream Angus: The Celtic God of Dreams is a library book. I'd heard of McCall Smith and his famous No I Ladies Detective Agency novels but I had never read him.  Dream Angus: The Celtic God of Dreams is part of the Canongate Myths series. I've read two of these, The Good Man Jesus and The Scoundrel Christi and The Fire Gospel and intend to read them all eventually.
I really enjoyed reading Dream Angus: The Celtic God of Dreams. McCall Smith writes this very short novel in the form of a series of fables or vignettes that gradually build up the legend of Angus including the story if his birth to a warlike demon called Dagda and a water spirit called Boann and his various encounters with people whose lives he transforms.
Dream Angus: The Celtic God of Dreams is beautifully written. The language McCall Smith uses reminds me of the oral tradition of storytelling. I can easily imagine a large group of people huddled around a bonfire listening to McCall Smith tell the story of Angus. I found the prose used in Dream Angus: The Celtic God of Dreams rich and very charming. The story McCall Smith uses is quite simple but very moving. I found Dream Angus: The Celtic God of Dreams to be a fun, enjoyable read because of the way McCall Smith writes.
McCall Smith entwines the story of Angus's birth and life with more modern stories that offer a glimpse of various people who believe they have encountered Angus. These include a suggestive story of a man who likes pigs; a new wife who realises her new husband is a stranger, a mass of secrets and confusion and a brown eyed couple with a blue eyed son. These modern stories add richness to Angus's story.
Dream Angus: The Celtic God of Dreams is full of myth, fantasy, fable, love, beauty and the transformation of something ordinary into something quite beguiling. I thought Dream Angus: The Celtic God of Dreams was a joy to read. Angus is transformed into a swan at the end to be with the woman he loves. I thought this was a beautiful ending.
McCall Smith has been added to be list of authors I want to read more of. I want to read the rest of the books in the Myth series.
RATING

Up next: The White Woman on the Green Bicycle by Monique Roffey. This is a library book.