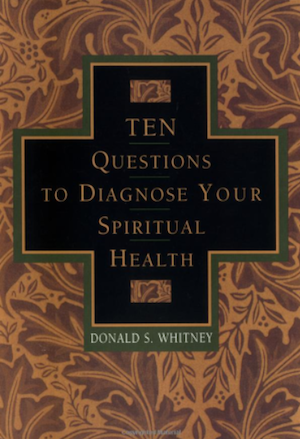 I just completed reading one of the most practical, helpful, well-written books about the Christian life that I've ever read. I wanted to share it with you..
Coming out of my cancer struggle, the Lord allowed my path to cross the book entitled "Ten Questions to Diagnose Your Spiritual Health" by Donald S. Witney. It was timely, because I desired to step back and assess my life before the Lord, before I just resumed my "pre-cancer" mentality. I wanted to emerge from the cancer struggle with a deeper walk with the Lord, having grown in His grace through the trial. I desire for the trial to have a permanent spiritual impact on my heart and life.
This book was fantastic! It was one of those books that made me want to highlight every single paragraph! Every page was intensely scriptural, very articulate, and powerfully inspiring regarding the healthy Christian life. Here are the things that I appreciated about this book:
1. It was unquestionably biblical. The author did a great job of supporting his "health diagnosis" from Scripture.
2. It was incredibly practical. Every chapter brought me back to a baseline aspect of authentic Christian living.
3. It was very inspiring. This book made me love the Lord more, love living for Him more, and long for greater spiritual maturity.
4. It was comprehensive. The author got it right! There weren't any glaring omissions of scriptural directives.
5. It was encouraging. Every page of this book lifted my heart and reminded me why I'm so thankful that I'm a Christian.
6. It was well written. Mr. Whitney has an easy to read, enjoyable style of writing that isn't trivial by any stretch! His writing runs deep and challenges both the heart and the intellect.
If you're looking for a book that will encourage you and spur you on to great spiritual maturity, you should definitely read Ten Questions to Diagnose Your Spiritual Health.