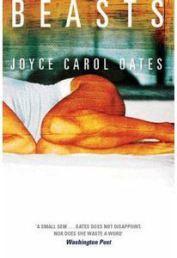 Beasts by Joyce Carol OatesAuthor Website
Amazon (UK)
Amazon.com
Orion Publishing Group Ltd. (hardback), 2001138 Pages
WHAT IT'S ABOUT
A bright, talented junior at Catamount College in the druggy 1970s, Gillian Brauer strives to realise more than a poet's craft in her workshop with the charismatic, anti-establishment professor Andre Harrow. For Gillian has fallen in love - with Harrow, with his aesthetic sensibility and bohemian lifestyle, with his secluded cottage on Brierly Lane, with the mystique of his imposing, russet-haired French wife, Dorcas. A sculptress, Dorcas has outraged the campus and alumnae with the crude, primitive, larger than life-sized wooden totems that she has exhibited under the motto 'We are beasts and this is our consolation'.
As if mesmerized, Gillian enters the rarefied world of the Harrows. She surrenders to their cassoulets, Quaaludes, and intimacies. She is special, even though she knows her classmates Marisa and Sybil and the exotic, mysterious Dominique have preceded her here. She is helpless, she is powerful. And she will learn in full the meaning of Dorcas' provocative motto.

OPENING PARAGRAPH
In the Oceania wing of the Louvre I saw it: the totem.
WHAT I THOUGHT
Joyce Carol Oates (JCO) is one of my favourite writers. I have a lot of her books I still haven't read and am gradually working my way through them.
I thought Beasts was great even though it was disturbing at times. Gillian's obsessive love for her professor was very real and painful to read about at times. Haven't we all let our heart rule her head at times? Sinister events happen at the college including random attacks of arson and Gillian's female classmates allegedly trying to commit suicide. Gillian, enthralled by Andrew and his wife doesn't really register this. Love can blind us. The novella gets quite dark towards the end, taking some unexpected and shocking turns. JCO's writing is on top form throughout.
I'd highly recommend Beasts.