---
Archer's Voice by Mia Sheridan is one the books I've read this year that really has the "feels". I love that this one is different from my usual contemporary reads plus it I'm digging the emotional vibe. This story was also taken from both the main characters' making it easy to connect with them. Recommended.
---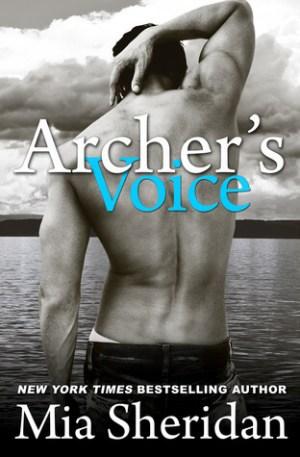 Archer's Voice by Mia Sheridan
First Published January 25, 2014
Genre: Romance, Contemporary, New Adult
345 pages
Format: eBook
Source: Purchased
Rating: 3.5 out of 5 stars
Buy: Amazon, Book Depository
Find on Goodreads
When Bree Prescott arrives in the sleepy, lakeside town of Pelion, Maine, she hopes against hope that this is the place where she will finally find the peace she so desperately seeks. On her first day there, her life collides with Archer Hale, an isolated man who holds a secret agony of his own. A man no one else sees.

Archer's Voice is the story of a woman chained to the memory of one horrifying night and the man whose love is the key to her freedom. It is the story of a silent man who lives with an excruciating wound and the woman who helps him find his voice. It is the story of suffering, fate, and the transformative power of love.
Review
I was honestly waiting for Archer to magically talk. Yep, I was mislead by the title haha. But then after reading the whole story, I just realized that it's not what I'm thinking. That the voice it's talking was not the one you hear in your ear but the one you hear in your heart. And my! This book is one heck of a story.
I have quite a lot of books from Mia Sheridan in my list and I just realized that I haven't read one from hers yet.  And last night, I finally did. I'm not really sure if I'm going to enjoy it but I know based from some of the reviews I've read that she writes steamy stories and that's what I expected for this one. So when I was introduced with the hero, my! I was really surprised. I haven't read a story before that one of the main characters would be mute. That said, I'm afraid I might be able to drop some spoiler ahead, so read at your own risk, *wink.
While I was reading the first chapter, I'm not sure what to think. The writing style was good but since I don't read the sypnosis when reading a book, I'm not sure what this one's going to be. I can't say I was bored but I was intrigued. So I went on until the hero was introduced and as I've said, I was surprised. I went on ahead and continue reading and I have to say that I'm enjoying it. I love that this one didn't rush things through and gave both the main characters to really build up their relationship until finally they made it official. I am loving the unconventional setup since it was my first time reading something like this. It also helped that I can relate to both the main characters and I can sympathize to both of their issues especially Archer.
And speaking of Archer, my! I can't believe what he's been through. Thinking about all the things he experienced, it's just so cruel. I guess it also helped that the evil witch in this story only appeared a few times because if not, I'm sure she's already dead because her name will be written down in my deathnote, haha. I can't really say that I love Archer because I hate self pity. But in this case, well, I was annoyed when he went through self pitying and then eventually became insecure, and thinking about the things he endured, well, I think I understand. His story is so sad that I'm one of the first people who celebrated when he finally got the life he deserves. I don't want to talk more about it coz I'm afraid I'll slip some more spoilers, *wink
For Bree. I actually like her. I like it that even though she's been through a lot, she was still toughing it up to survive each day. And when he accidentally met Archer, I have to say that I like that about her. She's not like the rest that judge other people without getting to know them first, and I'm happy that she did it with Archer. I also like it that she's very patient with Archer and that she guided him all the way. And at the striper incident, I'm glad that she didn't fully closed her mind and gave him time to explain himself. I love that even though it was obvious that her relationship with Archer isn't going to be a walk in the park, she still didn't gave him up and waited for him. I also like it that she always stood up for Archer and she always believe that he can do anything.
There's an evil witch in this story and there's also an evil son. I really hated Travis' guts. I can't count how many times I want to strangle him myself. He's so full of himself and I'm glad Bree saw that and chose Archer. The guy obviously is a sore loser and I really thought he is capable of killing someone. So imagine my surprise at the end. My! That was unexpected of him. I still hate him, but I guess it's not that intense like the first time he was introduced, haha.
I really like the whole idea of this story. As some of you may already know, I like stories that will make me feel emotional, and this story will really tug your heart. Both of the main characters have to deal with their own share of suffering but I think Archer had it bad. I love reading how each of them handled it with the help of each other until Archer wasn't able to handle it and went away. I have to tell you, I was teary-eyed reading that part.
With all of those nice words, why I am giving this one only 3.5 stars? I'm ashamed to say that I skipped a lot of paragraphs while reading this story, there's actually some times that I even skipped one whole page especially when I was on the sexy parts. I usually read them really, but for this one, I'm just not feeling it. I guess it was because of the mood or something. Giving this one a 4 star rating doesn't really sit well on me so I decided to retract a half star. If I think I overlooked something, maybe I'll come back and change it.
If you want something different from your usual contemporary romance story, then Archer's Voice by Mia Sheridan might be a perfect book for you. Plus, you will absolutely love its HEA.
Challenges
Goodreads Reading Challenge
Mount TBR
Alphabet Soup
Strictly Print
Review Writing
You Read How Many Books?
Book Reading
New Author
About the Author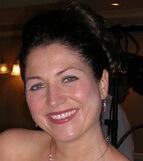 Mia Sheridan is a New York Times, USA Today, and Wall Street Journal Bestselling author. Her passion is weaving true love stories about people destined to be together. Mia lives in Cincinnati, Ohio with her husband. They have four children here on earth and one in heaven.
Check out my book shelf for book suggestions and recommendations!
BOOK SHELF: CONTEMPORARY
Subscribe To Blushing Geek