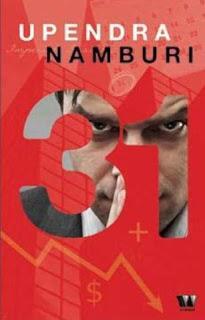 I don't know of many books that use the days of the month in a theme. And to have exactly that many chapters as the days in the month is indeed different.
31 by Upendra Namburi is a spacy thriller based in a bank. The month of March probably may not be of great importance to a common man but ask a banker and he'll describe as a month which can make or break his career. After all March is the last month of the financial year in India and the numbers in this month are all that matters to everyone, be it the company, markets, common man or even the country.
31 is another thriller that's based in one of the up market banks in India. It' the last month for the financial year to end and just like in cricket where you can't say anything till the last ball has been bowled so it is in banking. As you progress through this book, with its setting you'll wonder whether you are reading a debut novel or another Ravi Subramanian. There is no lack of twists and turns and politics and affairs. You may get frustrated with the same things going on but guess in a work place these things are the order of the day.
Not revealing much, the book is a story about a very simple, regular performing guy called Ravi Shastry. In fact Ravi's story is so common that it's very relatable. He has an irritating boss, team mates who jump at every position and opportunity on offer, top management who's decisions don't make any sense and more rivals and competition than friends one can bank upon. Plus with time slipping away by the minute you have absolutely no time even for a small break to make sense of the situation. 
The fast pace of the story leaves you for me. To your good luck there is an affair Ravi is involved in, his wife which feels sidelined and forget the promotion that Ravi is working hard for, it's his job that on the line. 
Through this intense maze of things, relationships and numbers Ravi becomes a person you feel for. The rush of things makes sure you keep the pages turning. How he jostles with things between his personal and professional life and fights it on his own is applaudable. 
The best thing about this book is the ending. Upendra has very smartly dealt a question. Not a close-ended one but an open-ended. It's neither fairy tale like nor depressing types, it's just right, just perfect. Thankfully, it doesn't go down Chetan Bhagat's Revolution 2020 which shattered my heart and let me see things crystal clearly.
The Verdict: If you are time constrained and looking for a book that would not make you late by even a minute then this one is for you. If you're wondering how then the countdowns in the book will help you keep check. 
The Good: This book has all the qualities for a thriller and will definitely leave you wanting for more.
The Bad: It gets over very fast.
My Rating: 4/5
Related articles
Book Review: The Bankster - Ravi Subramanian