The Tsunami of requests for books to be promo'd is drying up folks!
Please don't let this be a short lived thing – AUTHORS you've never had it so good regarding opportunities to get free promotion on this popular blog, so:
DON'T DELAY – GET YOUR PROMO IN TODAY
Find the form

HERE
And PLEASE make life a little simpler for this silly old ape temporary blog editor and give ALL the information requested in the form, especially FULL http://www.**** addresses of book covers and where the books can be obtained (or downloaded), etc.
This weeks 6 great entrants are as follows:
REDEMPTION: The Further Adventures of Huck Finn and Tom Sawyer by Andrew Joyce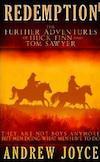 Three men come together in the town of Redemption Colorado, each for his own purpose. Huck Finn is a famous lawman not afraid to use his gun to protect the weak. He has come to right a terrible wrong. After his wife's death, Tom Sawyer does not want to live anymore; he has come to die. The third man, the Laramie Kid, a killer Huck and Tom befriended years earlier has come to kill a man. For these three men Death is a constant companion. For these three men it is their last chance for redemption.
The Reversing World's Trilogy by J.T. Brown
Harper Grogen has no idea that she is the most powerful creature in Pasmaqon. She recognizes that she is different from other eleven year olds; maybe a little quirky, but magical was not in her self-description. Her inquisitive notion drove her to an old tattered book which held a mysterious stone. Struggling to open the clasp, releasing the stone as, it radiates a glow across her room. She kept the rock in her pocket for secrecy. Her possession of the stone sent her to a world, which had been hidden under the ocean's fire tornado of "'Reversing Falls." She found herself fighting for her life in a land that is its own worst compelling character, not knowing who to trust, only the estranged friends that she meets along the way. Oliver, which holds his cover as a trustworthy gnome, and Minsty, a large gentle giant that protects her from the dark creatures, who roam and strip the lands with their ghostly evil presence. She discovers that her adventure holds the key of eternity. She learns her existence is a true mystery that sings along the pages of her ancestor's mysterious book.
Amazon.co.uk
Amazon.com
The Adventures of The Hole In The Floor Gang by George E. Roosevelt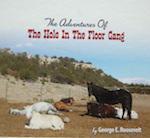 The Adventures of the Hole In The Gang is a children's book (more to come). It can be ordered through me although the first print run is almost sold out. I plan a second book out by Christmas. The Hole In the Gang is a collection of 2 domestic horses, two mustangs, two miniature mules, two dogs and various other creatures that live at and frequent my ranch in southern Colorado.
Dream Weaver by Su Williams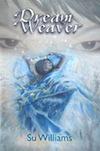 Dream Weaver is a young adult paranormal fiction novel set in snowy Eastern WA state. Move over vampires, werewolves and zombies! There's a new paranormal in town! DREAM WEAVERS. An ancient, arcane and almost immortal race with the power to cull and control memories and dreams. Dream Weaver Nickolas Benedetti rescues tragedy-torn Emari Sweet from debilitating night terrors after a fiery crash leaves her orphaned at 17, and a brutal assault. But can Nick save Emari from the REAL, living, breathing nightmares that have followed him to her doorstep? I wasn't asking for PAST. Not even a FUTURE. Just a few less-painful memories to make surviving the PRESENT a bit more bearable.
The Reluctant Savage by Billy Ray Chitwood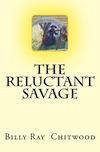 All the elements of a fun read: murder, mystery, suspense, romance. (Cuts across genre lines.) Two high school sweethearts reunite after years of separation, find that love still glows… There are obstacles to their love: the murder of a friend, a love triangle, evil doings… All make for a climactic ending.
High school sweethearts, Billy Jay Campbell and Marcie Dangino reunite after many years apart. They discover the fire of their young love still glows brightly. With the Air Force behind him, Billy now works as an investigator for a law firm,
Two problems threaten to spoil his homecoming. Marcie is now married to a junior partner at Clarkson and Dangino, a firm that has occasionally employed him for their investigative work. The second problem occurs when Billy's close friend and boss is murdered.
The Reluctant Savage follows a mystery that connects murder, romance, and a love triangle.
Don't miss this fast-paced, gritty novel!
Amazon.co.uk
Amazon.com
Troll by Richard Sutton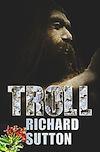 At what point did humanity learn to fear each other? To hate? Paleo-Anthropologist Ariel Connor thinks she knows. She just can't prove it yet, but her newest find, high in a Norwegian Valley, may give her the proof she needs. Those scary stories we've told our children to keep them from roaming too far outside the gleam of the porch light may have come from real incidents, many, many years ago. While Dr. Connor's excavation continues, the story of what happened is slowly revealed. Two clans are converging on the remaining game lands. One will have to leave their homes, one will tell stories and sing songs of their own bravery. One people will disappear while another will bring their history into the modern world. One way of life will be lost, but does the better way endure? What have we learned from the ancients that would have been better forgotten?