Today's Book Promo on behalf of Steve Smy (STILL from the Tsunami of entrants) this weeks 6 books are as follows:
THE FAIRY FLY by Lori R. Lopez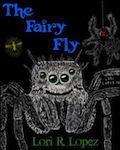 A Black Widow queen, a big bad Wolf Spider, and a Hit-Mantis are but a few of the obstacles for a spunky little spider who must find his way home through a strange land of giants in this witty fairytale fantasy for kids and adults.
Transported out of his element into a realm of dangers and foes, Spider is aided by the insects and arachnids he befriends, but only he can see the Fairy Fly. Is she real or imagined? This whimsical novel about finding oneself while feeling small in a big world takes a step back and several steps downward to peep at humanity from below. At the same time, the story is an allegory of the human condition: life and death matters, war and peace, our everyday struggles on a tiny scale. Part humorous, part philosophical, at times poetic . . . it celebrates a love for animals, books and words. View the planet from a different angle as you take a spiderwalk through the door to adventure.
Slingshot by Dawn Martinez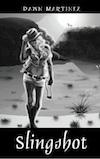 Wild southern cowgirl Celeste has reached a crossroads in her life. She still loves her life as a rancher, but after many years as a devoted wife, she's hit a wall with her marriage. An unexpected opportunity comes her way when her best friend, Geraldy, asks her to travel with him to his native Haiti to help with disaster relief efforts after the devastating earthquake. Strong-willed and resourceful, armed with her trusty slingshot and hunting knife, Celeste invades Haiti as a loving force for good…and in the process, she collides with Captain Valis, the strong, sexy official of the United Nations support force. The electricity between them is immediate…and confusing! Valis is a lone wolf who is used to loving women and leaving them; Celeste is a wild spitfire whose womanhood has been unappreciated for too long. Against the exotic and heartrending backdrop of their humanitarian work in Haiti, a compelling love story unfolds…of two wild spirits who met their match in circumstances neither of them could have imagined!
Vorn by Antonio Henry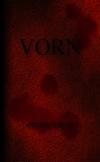 Four tales from a ruthless realm. Four tales from a fantasy that should not be. Enter a world that favours none. Where life curses many, and the hearts of men are revealed to be petty and cruel. From the tribulations of gods to the strife of the meek, the heinous fates of Vorn marks all. These are such fates…. Details: 'Vorn' contains four short stories revolving around the dark fantasy world named Vorn. This includes a story about a god of eternal hatred, a psychopathic obsessive ghost, a father of a forbidden child, and a demon's perverse sense of justice.
The book is currently available at the Lulu.com marketplace where it was self-published.
Lulu.com
Chase Tinker and the House of Magic (The Chase Tinker Series, Book 1) by Malia Ann Haberman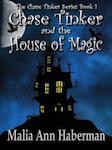 In this fun, thrilling, delightful middle-grade/tween fantasy, which was inspired by a dream I had one night, 13-year-old Chase Tinker and his younger brother Andy learn the truth about their family's magical heritage from a grandfather they thought to be long dead. This grandfather soon invites them to come visit him in his gigantic, magical house on a remote island in Puget Sound – a house where practically every room has its own unique superpower. When there, the boys also learn that their family has been battling a Dark Enemy for generations, always fighting to preserve the mysterious "Relic" that holds the key to all the Tinker magic. This terrifying enemy is bound and determined to get their hands on this powerful Relic, and the incredibly magical house. Chase can't believe his dad has been keeping so much from him and his brother. Now Chase must find a way to stop these evil beings, while at the same time seeking the truth about what has happened to his missing dad, unraveling even more secrets and lies, and not letting on that he has his own secret crush on the housekeeper's beautiful daughter.
Amazon.co.uk
Amazon.com
Pie An Old Brown Horse (That Knows What He Is Doing) by Kandy Kay Scaramuzzo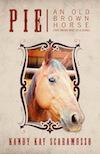 This five star Readers' Favorite review book is the story of a twenty five year old ranch horse that was injured and pretty much left to die. He was brought to a stable and sold, even though no one really expected him to survive. He was reborn into a merchant of hope. His amazing spirit and calmness have helped many people over the next 13 years as he became the most amazing mentor and therapy horse. This is Pie's story as he tells it about the most amazing second chance at life and his travels through it. You will meet his person, a shy young girl who he helps grow into adulthood. He will introduce you to the other horses and people that helped shape his journey. His influence has known no bounds throughout this last 13 years and he continues to shine his light even at the ripe old age of 38. This is a feel good story about life, love, second chances and giving back.
Finding Amy by Carol Braswell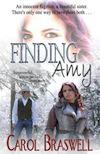 When Texas Ranger, Carson Garrett is assigned to locate and place in protective custody the wife of a man suspected of illegal activities with a Columbian drug lord, it turns into more than routine. The estranged husband has put out a hit on his wife and the only person who knows where she is hiding is her twin sister, Amy Summers. It is a race against time for Carson to find Amy, convenience her of the imminent danger and get her to lead him to Jamie so he can escort both women and Jamie's four-year-old child back to Texas. Besides the obvious problems of running from a man who is trying to kill them, Carson and Amy have an instant attraction to each other and it is clouding his usual sharp judgment and causing them both to make costly mistakes.