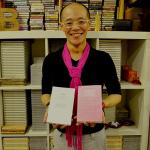 On 17 May 2013, to mark the International Day Against Homophobia, Biphobia & Transphobia, we launched the book at the showroom of the publisher, Math Paper Press.
Here are some videos that capture the welcome address, as well as readings of excerpts by Tania De Rozario, Rev Miak Siew & Ng Yi-Sheng.
Special thanks to Mr Roy Tan for filming and editing.
Tania De Rozario, award-winning writer & visual artist, reads Tarry's story "I remember him."
Rev Miak Siew, Singapore's first ordained openly-gay Christian minister, reads Rev Yap Kim Hao's story "The wounded healer."
Ng Yi-Sheng, freelance writer & artist, reads Lester's story "My hopes & dreams."