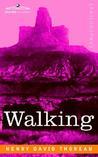 Walking by Henry David Thoreau
My rating: 5 of 5 stars
Thoreau paints a portrait of walking in such grandiose terms that one will cease to think of putting one foot in front of the other as one of life's mundane tasks. He's not talking about just any walking, however. He's not talking about the mall walkers who briskly exercise in temples of consumerism. He's not talking about those who walk through the park with top 40 hits blaring from their iPod ear buds.
Thoreau is talking about those individuals he calls saunterers. To saunter, as to stroll, is to walk in a leisurely and aimless fashion. Thoreau's walking is that which:
-takes place in nature.
-leaves worldly worries behind.
-is not a trivial time commitment.
-is more an exercise of the mind and spirit than of the body.
To the mall walker, Thoreau would point out the error of a missed opportunity to get away from mankind's chaos and enjoy nature. As he puts it, "The most alive is the wildest." and "…all good things are wild and free." He's also clear in that walking for exercise misses the point by injecting hurriedness into a time that should be about slowing down.
On those with iPods, cellphones, or other contrivances that distract one from the environs, Thoreau is equally clear, "What business have I in the woods if I am thinking of something outside the woods?"
Thoreau's essay broadens as it progresses. From a commentary on the virtues of sauntering, the essay turns to the glories of nature, the character of America, and the state of thought in his contemporary society. These may seem like unrelated concepts, but there is a string of logic that connects them.
The connection to nature and the virtue of wildness should be clear. It's nature that is the optimal backdrop of sauntering. It's in nature that one can be set free from the troubles of the world of man and obtain a glimpse of god. It's in nature where creativity breeds with chaos turned down and native brilliance turned up.
Thoreau's discussion of America is tied to the theme of walking in a couple of ways. The first is as a land made for walkers. For example, he points out that a man could pitch a tent almost anywhere in North America without great risk of becoming a meal. The same couldn't be said of India or Africa or Siberia, where man isn't the sole predatory creature. The second is America as a place with room to venture out into uncharted territory. Thoreau points out that we may look to the East for the lessons of our predecessors, but a person should look West for opportunities to grow in one's own right. Of course, Thoreau's America was different from today's America.
The end of the essay broadens out even further. Thoreau comments upon mankind and the state of ideas and thought. He echoes Socrates when he talks about that age-old question of whether it's better to be ignorant (to know one knows little) or deluded (to think one knows a lot, but be drowning in false knowledge.) A reader may suggest that this is a false dichotomy. Why can't one know most everything and not have a one's body of knowledge rife with false knowledge? I can't say, but all of the evidence suggests that if such a state exists, it's the domain of God or gods (if such entities exist.)
Thoreau also bemoans what he sees as the decline of thinking man. What does this have to do with walking? I think Thoreau answers in the following quote:
"So it would seem few and fewer thoughts visit each growing man from year to year, for the grove in our minds is laid waste—sold to feed unnecessary fires of ambition, or sent to mill—and there is scarcely a twig left for them to perch on."
I think that everyone should read this thin book–really an essay and not a full-scale book. The problems Thoreau notes have only gotten worse in our modern age. Far too few take the time to walk, and to acquire the benefits of sauntering.
View all my reviews
By B Gourley
in
America, Book Reviews, Books, Essay, essays, Meditation, mind, nature, outdoors, Philosophy, Poetry, Review, Reviews, travel, wisdom
on
November 7, 2013
.