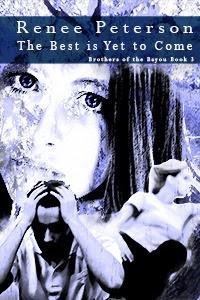 Peterson:
Goodreads
Series:
Brother's of the Bayou #3
Release Date:
June 26, 2013
Organizer:
Sage's Blog Tours
Get It:
Amazon
Rafe Chauvin left his home in the blink of an eye twelve years ago, running from a secret he kept buried deep inside. The day after his high school graduation, he joined the Army to escape the pain the secret brought.
When Serena Adams told Rafe Chauvin the lie of a lifetime twelve years ago, she never imagined what consequences those reckless nights would lead to. After years of trying to escape her lies, she returns to her hometown in South Louisiana.
Hannah Matthews is a war widow. Her husband, Tom, left her behind with two very young daughters and made his best friend Rafe promise that if anything were to happen to him that he would look after his girls. Bound by honor, Rafe keeps his promise, stepping up and forming a close friendship with Hannah.
When Serena is hired to plan the weddings of both Rafe's brothers, they are brought together for the first time in over a decade. Lies are finally uncovered, leaving a trail of anger and bitterness in their wake. As the paths of these three individuals converge and they reach a crossroads in their lives, will they move forward and discover that the best is yet to come?
Note: While this is the final book in the Brothers of the Bayou series, it can be read as a stand alone novel.
~synopsis provided by
Goodreads
RELEASE DAY SALE! Through June 30 The Best Laid Plans and The Best of Intentions are only $0.99