Need some Spring reading material? Here's a snapshot of some of the best books to come through my post office lately:


FOR KIDS:


Won't You Be My Kissaroo (written by Joanne Ryder, illustrated by Melissa Sweet)



The version I received is a "Send a Story", which means there's a spot for an address on the back, and all you have to do is add 3 stamps to mail it. I had received another "Send a Story" previously, but found the writing and pictures sort of "old" (some might say "classic", but it didn't suit my taste)...and then I realized it was first published in the 60's!
This book is much more appealing as far as I'm concerned, with a little rhyming couplet on each page, complemented by gentle animal parent/baby illustrations. Surely you can think of a little person you love who would be thrilled to find this in the mail!
Just a Dream  (written and illustrated by Chris Van Allsburg)



This is a super title for Earth Day! The pictures are fantastic, and my students loved the story. It really got them thinking about what the future could look like if we don't do our part to save the Earth now.
I Am the Book (poems selected by Lee Bennett Hopkins, illustrated by Yayo)



A poetry anthology for children, this book is full of great illustrations, and a variety of poems about reading. I love these lines from "Book", by Amy Ludwig VanDerwater (because I can totally relate):
"Closing the cover
I sigh -
Good-bye, friend."
There's even a little "About the Poets" section at the back of the book. Described by the publisher as an "exuberant celebration of reading", I'll be holding on to this one for my poetry unit in April.


FOR MOMS:


Chatelaine's Earn, Spend Save (by Kira Vermond)



Three things I learned:
1. When you buy grated cheese, you are in essence paying someone $80 an hour to do the work for you. Enlightening. Doesn't mean I'm going to stop...
2. When our vehicle finally bites the dust, we really should purchase used...yet again...despite that voice inside my head saying "But we deserve a new car! We've never had one!"
3. Our monthly budgets, obsessive and time-consuming as they may be, are worthwhile. If you don't have a budget, what are you waiting for?
I had to laugh at the tip about variable-rate mortgages, which began with: "Do you like to live on the edge and possibly save money?" The words "live on the edge" and "Kate Winn" are not often heard together, but when we renewed our mortgage two years ago to a variable-rate version, it was one of the best financial decisions we've ever made. The first five years we paid a fixed rate of 4.25%, which we thought was fabulous, but since we renewed the rate has never even hit 3% (we were at 1.75% for a while!) The great thing is that our monthly payments are based on a 6% interest rate, which means that until rates go that high, our payment won't increase, and while they stay low that extra money goes towards paying down our principal, which will actually cut years off our mortgage.
The Cleaner Plate Club (by Beth Bader and Ali Benjamin)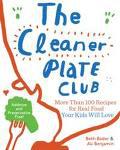 Okay, so I wasn't even going to read this one. (If you know me, you know why.) But when a second copy was sent to me in error, I thought perhaps it was a sign, so I cracked it open. And I'm glad I did, because I have read it cover-to-cover. Well, I only skimmed the actual recipes, and as soon as I saw an ingredient I didn't like I moved on, but I enjoyed the rest!
The problem is that Frannie is a picky eater, but she comes by it extremely honestly. I'm not going to make myself sound like too much of a weirdo here, but let's just say my food repertoire is quite limited. I'll leave it to my family and friends to comment on exactly how limited it is, should they desire to "out" me.
I loved the informational portions of the book, and as a picky eater myself, I appreciate the authors' philosophy that you shouldn't force kids to eat anything. We've caught ourselves bartering bites of the main course for a chance at dessert, and I'm going to stop doing that. I'm also going to make sure that I don't morph into a short-order cook. Our job as parents is to offer lots of healthy choices (and make sure the fridge and cupboards are stocked with the sorts of things we want the kids to grab) and then our work is done. The children themselves have to decide what and how much to eat. This idea feels so freeing to me!
I also learned that I need to keep offering new foods many, many times, as research shows that it's often necessary to do so before a child with embrace an unfamiliar taste or texture. (Sigh. I guess this applies to me too...)
This book made me realize how fortunate I am to live in the country, and have fresh foods readily available. If I go to the nearest grocery store, I can purchase eggs straight from my brother-in-law's farm...laid by chickens that Frannie and Maggie held when they were only little chicks!
There are over 100 healthy recipes in here, (some of which Frannie and I would definitely eat), and great sections on navigating the supermarket, food safety, lunch-box favourites, and more. I'd recommend it, and if you like to cook and/or eat like a normal person, you'll enjoy it even more than I did.
Disclosure: These books were provided to me for review purposes. Opinions are, as always, my own.