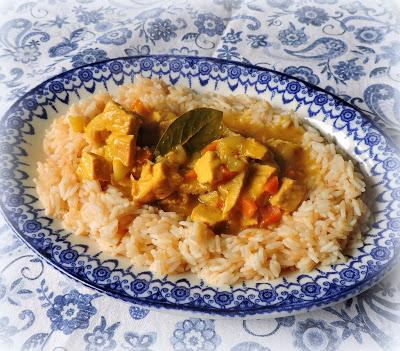 Today I am showing you something deliciously different to do with some of your leftover turkey.  We all enjoy our turkey sandwiches of course,  and maybe a pot pie. One thing I have always loved to do was to make Enchiladas which my family loved.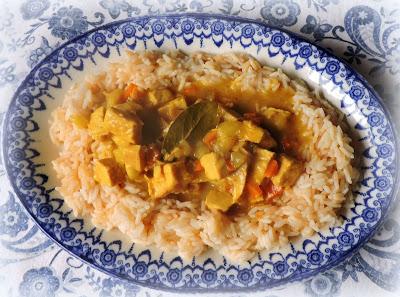 Here in the UK, one thing they really like to do with leftover turkey is to do a curry. Next to Fish and Chips and Roast Dinners, curries are a National favourite!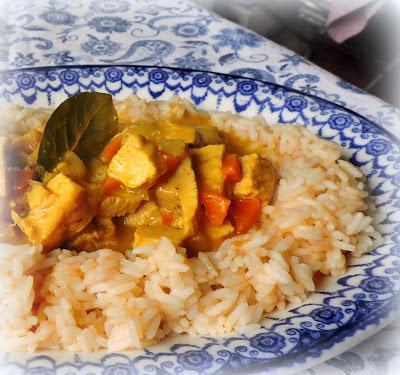 This recipe is adapted from a book I have had for a very long time, since even before I moved here to the UK, called
Twice is Nice
by Edna K Damerell.  It is a cookbook centred around making the best use of your leftovers.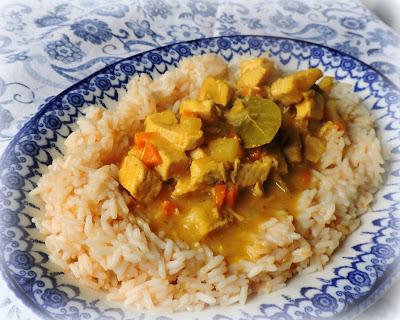 Although no longer in print, you can still get copies of it second hand from second hand book sellers.  Its a pretty handy book to have.  It contains more than 600 recipes geared to using up all of your leftovers, be they meat, poultry, fish, vegetables, rice, pasta, beans or eggs.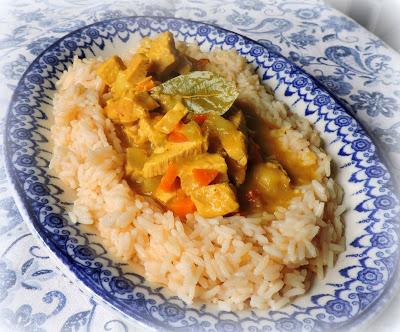 This recipe uses your leftover turkey (of course), but also chopped apple, onions, celery and garlic  . . .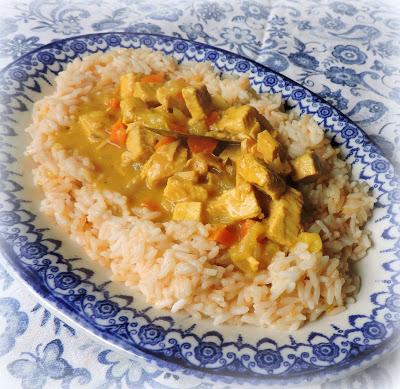 It is seasoned with curry powder, salt, bay leaf, dry mustard powder and dried sage  . . .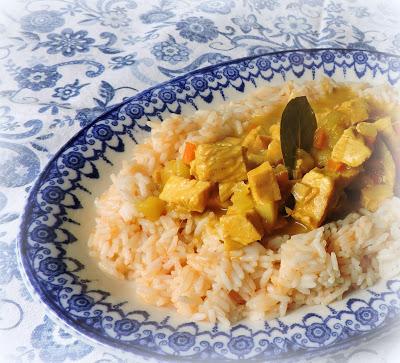 You will also need chicken broth/stock, single cream  . . .  and a good chutney.  I used mango chutney, but you can use whatever chutney you want.  Major Ball's would be good.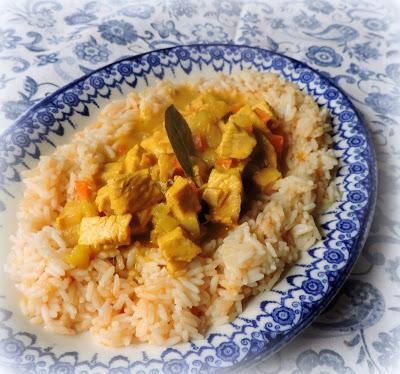 You can control the heat/intensity of it by the strength of curry powder you use.  I used a medium curry powder, which is about as hot as I like it to be.  I don't think I would like it any hotter.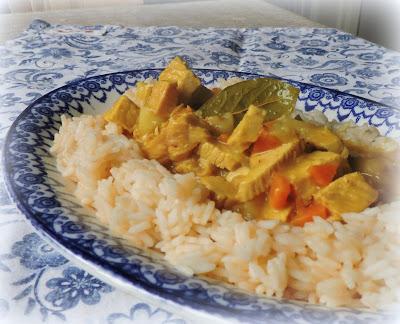 You serve it simply with steamed rice that you stir some more chutney into, which works remarkably well.  I would never have thought of stirring chutney through rice to give it some flavor.  You learn something new every day!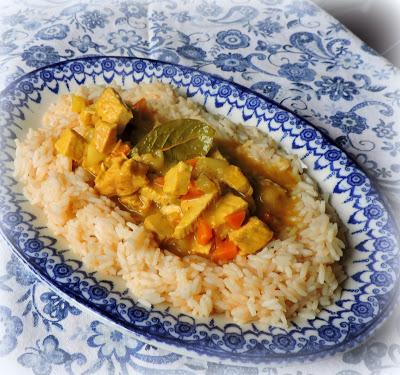 You
can
teach an old dog new tricks!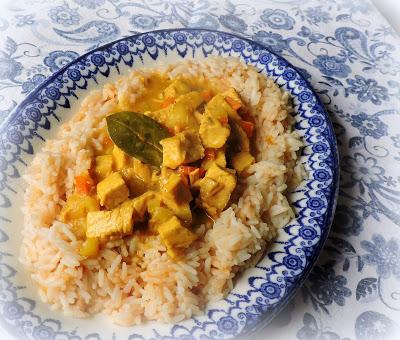 Todd really, REALLY enjoyed this.  As a Brit, he loved curries, and he thought this one was quite nice. He might have liked it a bit hotter perhaps, but for me this was just right!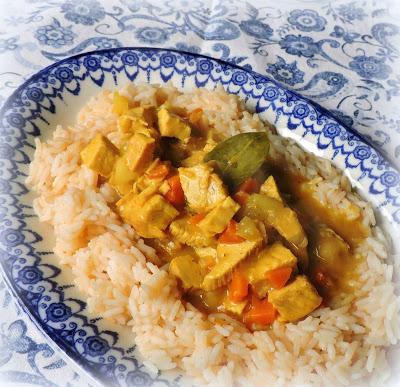 Yield: Serves 6 - 8
Author: Marie Rayner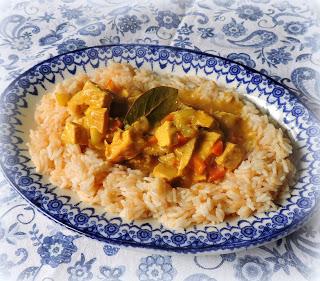 Bombay Turkey
prep time: 10 mins
cook time: 20 mins
total time: 30 mins
Something deliciously different to do with your turkey leftovers!
ingredients:
60g butter (1/4 cup)1 medium onion, peeled and chopped1 clove garlic, peeled and minced1 stalk celery trimmed and chopped1 tart apple, peeled, cored and diced2 TBS flour1 TBS curry powder (you decide how hot you want it!)1 tsp salt1/4 tsp dry mustard powder1/8 tsp sage415 ml chicken stock (1 3/4 cup)1 bay leaf3 cups diced cooked turkey120ml light cream (1/2 cup)6 TBS chopped chutney480g cooked rice (3 cups)
instructions:
Melt the butter in a large saucepan.  Add the onion,
 garlic, celery, carrots and apple. Saute, stirring occasionally until
tender.  Mix in the flour, curry powder, salt, mustard powder and sage.
 Cook over low heat, stirring constantly until mixture starts to
bubble.  Stir in the broth and add the bay leaf.  Bring to the boil,
stirring constantly, until the mixture thickens. Stir in the turkey,
cream and 3 TBS of the chutney.  Simmer gently until the turkey is
heated through.
Mix the remaining chutney into
the cooked rice.  Spoon the rice onto a platter to make a ring.  Spoon
the turkey mixture into the center and serve immediatelyCreated using
The Recipes Generator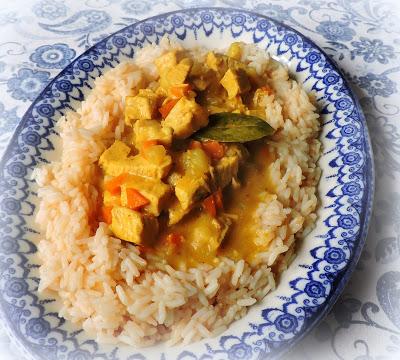 So what is your favorite thing to do with your leftover turkey?  I do love a good pot pie myself, and my mom always made excellent turkey soup, and the North American in me really loves a good Enchilada!  Bon Appetit!