erWhen you are looking for Direct To Garment (DTG) Printing,
think BOLT PRINTS!

Direct To Garment (DTG) Printing can NEVER be rivaled by its short runs and one-of-a-kind prints compared to screen printing.
Bolt Prints is probably the first in GenSan when it comes to DTG Printing. At Bolt Prints you can avail of a durable and fast digital apparel printing that produce single prints or bulk orders.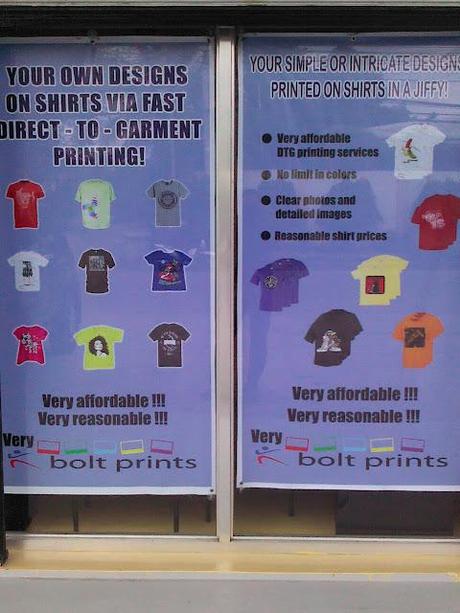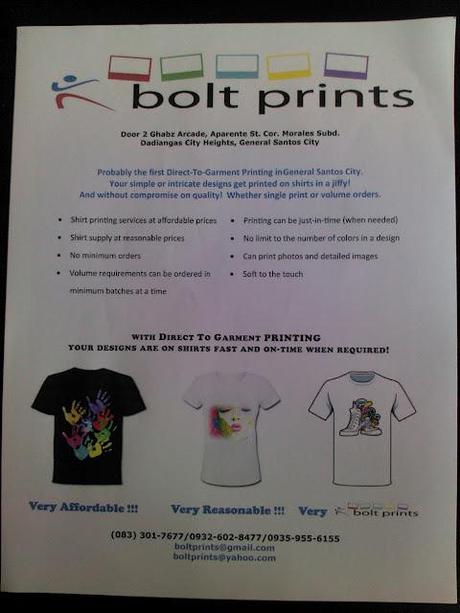 So why choose BOLT PRINTS?
Go for BOLT PRINTS to produce vibrant, full-color digitally printed shirts in minutes!
At BOLT PRINTS, it is more environmentally and employee friendly - NO Harsh Screen Printing Chemicals!
Shirt Supply at BOLT PRINTS is at its best prices.
Just-In-Time (JIT) printing.
No minimum orders required.
Prints simple or detailed designs.
Printing Services = VERY AFFORDABLE!

For more info visit BOLT PRINTS at Door 2, Ghabz Arcade, Aparente St., Corner Morales Subdivision, City Heights, General Santos City.Or contact BOLT PRINTS through these numbers 0932 602 8477 or [TM] 0935 955 6155.