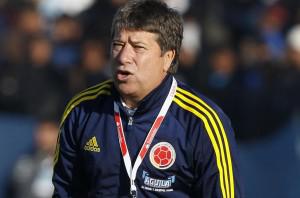 In this result-driven business there are moments where we have to forget about a person's resume and analyze their character in depth.
The word "bolillo" in Spanish means nightstick. It is also a derogatory term in which people in Colombia refer to policemen, mostly the violent kind. So just before anyone asks why Hernan Dario Gomez is always spoken about with that moniker. Based on his brief playing career and role as assistant under Francisco Maturana early on in his career. His temper tantrums and personality have been well documented by the Colombian media as well as in other stops.
Guilty or not of beginning the altercations throughout his career, one thing is for sure he ends up getting some of the blame. It is a simple concept that even extends to the men that he leads on the pitch. The retaliator is one that usually gets caught. You are also going to get caught if you just happen to be the coach of the Colombian national team. This was one thing he never learned to apply in his personal life.
At this point people aren't so irked with Gomez as much as the guile and spine  that the head honchos at the federation were looking to show.  To see Luis Bedoya and the board of the Colombian Football Federation have to even ponder this resignation really bothered many.    To see them attempt to flex their muscle and thumb their noses at the Federation's sponsors (Bavaria particularly), at the Colombian fans, and even president Juan Manuel Santos questions what the leadership is all about.   It had to take the coach saying that his decision was "irrevocable" for federation brass to realize that this was for the best.
There are some major social issues that have undergone a revolution in Colombian, "gender equality" happens to be one of them.  When I say "gender equality" I am not talking about issues such women's suffrage or civil rights. I am talking about the treatment of women at the workplace and of course at home and within society.
Women (much like children and the elderly) are among the most vulnerable demographics (along with the elderly and children) throughout this country's 47-year conflict. They have been victims of everything from bombings, to the raping and pillaging of small villages in some of the more excluded areas of the country.  Women have also been victimized in the home.
Add to this the machismo that is part of Colombian society and it is a very dangerous combination for women.
Gomez' incident put this particular topic front and center in the Colombian social debate.  He became the unwilling poster child of a cause that has called for a great deal of change.
What really has to be applauded is Gomez' conscious decision to leave his post despite players and board directors wanting to see him remain on board.  He understood the gravity of his actions. He understood that not having the fans on board was something that would hinder the team's progress during World Cup qualifiers.  He understood that to have him on the sideline would have been an added distraction to a team that needs as much support as they can get.  He also understood that if the results don't come, those problems will be exacerbated.
More importantly, Gomez understood that it is not about him.   What he did would have repercussions on his players.  What he is well aware of is how he will affect his family if he were to remain.
FOLLOW ME ON TWITTER