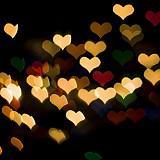 Hellow fellow readers! did you like the picture? it is not Photoshop, it is a real photographic trick made with your camera and some black paper disks! Pretty nice ha?! Well find out how you can do this too !
This post is specially dedicated to those of you that love photography! Well this simple trick will made some of you photos a little outstanding. Imagine taking a picture of a friend's wedding, or your son/daughter graduation, or just a nice shot with your couple in a romantic place at dawn. All that you need is to prepare and test some paper disk and carry them with you everywhere your camera goes.
Well this is the deal !
I told you ! is very very easy :D ! now go and run and made some disk and shot some cool pics ! We will be glad to share your photos here, so feel free to submit them on our Facebook website, Twitter or by a comment on this post, and scream to the four winds that "I LEARN TO MAKE THIS ONTHATPAGE" heheheh :P Have fun and we are waiting for your shots!!
Source: Thank to http://makezine.com/ for this awesome video !