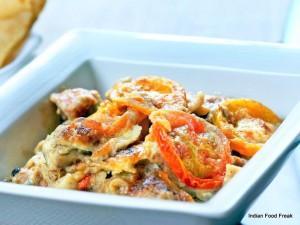 Dabba gosht
It is one of the rare occasions that one gets an opportunity to experience a world beyond one's periphery, indulge in a exciting cuisine other than the regular fanfare. One such occasion presents itself at K3 at the JW Marriott New Delhi Aerocity, named so for its three live kitchens, at the Bohri food festival from 25th April to 4th May 2014 by Musakir, a veteran Bohri Master Chef specializing in authentic Bohri delicacies.
Bohras are a sect of Islamili Shia Islam representing Muslim community of Gujarat in western India however their lineage goes back to Middle East. They have a major Gujarati influences on their cuisine, and Mughlai dishes are particularly popular with the food of the Bohra muslims, with influences from the Middle East. Meat, rice and pulses are some of the most important constituents of their diet.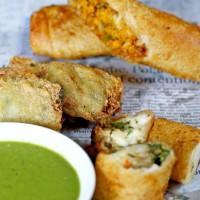 Baida Roll
We are here at the invitation of the hotel to preview some dishes being featured as a part of the buffet at the Hotel. Before we go through the tasting, we chat up with Chef Musakir to find out a little about Bohri food. The Chef explains "Bohri food is mild and light. What matters is the taste of the meat and some simple spices, used with restraint." Chef Girish Krishnan, the executive chef of JW Marriott New Delhi Aerocity joins in the discussion. He adds "unlike Mughlai cuisine, Bohri cuisine does not believe in gravies and so you will not find any kormas here. Also Bohris do not understand vegetarian food so creating the vegetarian dishes was a challenge."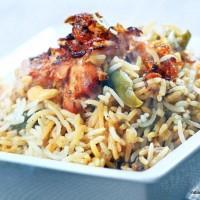 Safed chicken biryani
Armed with this knowledge we decide to start with the non-vegetarian section of the buffet. We try the kababs first. Baida roll is a chicken roll made with maida, chicken, bell peppers, and egg and is mild yet delicious. Mutton cutlace, a cutlet made with mutton, green chilli, ginger, garlic, and egg is elegant in its simplicity. The main course is no less. Dabba gosht is a very addictive dish of mutton cooked with cashewnut paste and macaroni. It is a comforting dish, and a meal in itself. This dish is also my favorite from the buffet. Saas murghi is a lighter version of butter chicken, which skips the butter.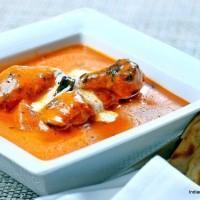 Saas murghi
Chicken safed biryani is mild and captures the true taste of Bohri cuisine. The taste and the flavor are quite unique than the normal biryanis we have eaten so far. It is neither sweet nor spicy and one cannot even say it has a smokey flavor and hence I had earlier mentioned the word mystical. It took me 4-5 spoons to come to the real taste of the food which had a bit of dhaniya to it. It was really magical whipping into that Biryani and that was not the end of Biryani. On other occasions, you are served with raita or mirchi salan if you go down south but this Biryani had a surprise package to it. We were presented with cold soup as an accompaniment made of green lentils, which was really freshening in the hot summer afternoon of Delhi.
We now proceed to try the vegetarian section. Here apart from Dalcha which tastes like a Dhansak without the meat, and is as delicious the rest of the dishes are not memorable.  Hara bhara kebab is shallow fried green vegetable gallets made from spinach, green coriander, carrot, and beans with no distinct taste.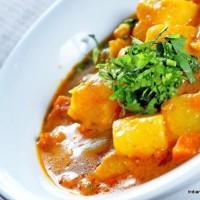 Navrattan Kurma
Vegetable Russian kebab suffers the same fate. Channa batata is a lighter and somewhat less exciting version of Punjabi chholay. Navrattan korma has vegetables cooked with cashew nut gravy. Otana pulao is an unremarkable pea pulao.
We enjoy the experience because we get to taste a new cuisine. Many of the dishes are delicious, and worth visiting this festival for.
Date:  25th April to 4th May 2014
Lunch: 12:30pm – 3:00pm, INR 1650 + tax
Dinner: 7:00pm – 11:00pm, INR 2100 + tax  
| Alcohol: Yes | Credit Card: Yes | Home Delivery: No | Address: JW Marriott New Delhi Aerocity, New Delhi | |Telephone: 91 11 4521 2121 Extn: 2120
With inputs from Swati Garg
Executive Chef Girish Krishnan with Chef Musakir
Chana Batata
Cutlace
Baida Roll
Dalcha
Dabba gosht
Navrattan Kurma
Safed chicken biryani
Saas murghi