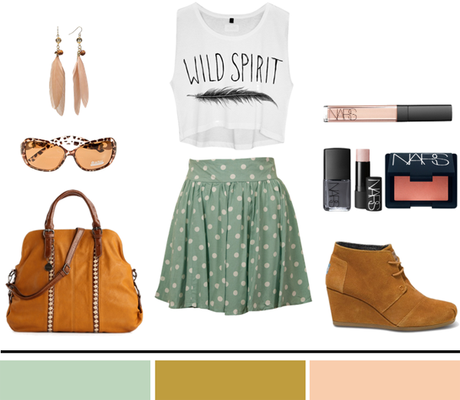 Have you ever gotten into the booties with skirts thing? Or booties with dresses, shorts, cropped pants etc? It's something I haven't ventured into but is obviously a fun way to mix pieces from different seasons. Also…mark me down as highly interested in these TOMS boots.

Mink Pink Peppermint Patty Skirt
($63.00),
Kan Dee Wild Spirit Sleeveless Tee
($40.00), TOMS Chestnut Suede Desert Wedges ($89.00), Big Buddha Tribal Tote ($70.00), Havana Brown Sunnies ($5.70),  Sonoma Life + Style Feather Earrings ($6.40),
NARS Fall 2012 Makeup Collection
($18.00, $39.00, $28.00), NARS Gloss in Spring Break ($26.00).