Tips from Naomi of Design Manifest!
Did you happen to see Naomi's apartment on Design*Sponge? I don't know about you, but I was BLOWN AWAY! So much texture, so much color and pattern all in one space, yet so chic and homey! I asked Naomi to come back and tell us specifically how she applied her boho glam formula to her own pad, to teach us a thing or two!
Hey guys, it's Naomi from Design Manifest, and I'm back to talk about (what else?) modern bohemian glamour. Last time I was here I shared 5 essential elements for creating a boho glam pad. To recap, they are Faux Bamboo, Animal Accents, Gold, Woody/Rustic Elements and a good healthy dose of Black. Today I'm sharing how I used these 5 elements in my own home to create my own eclectic paradise.
You see, you can mix all kinds of eras, styles, colors and patterns and have it look cohesive. You just need to be consistent and repeat your themes for a unified look.
FAUX BAMBOO:
I love faux-bamboo furniture so much that it would have been easy to go overboard with the look. I didn't want to get too themey, though, so I stuck to only three pieces: my bar cart, my stools and my dining chairs. Each is a different finish — gold, red lacquer and black lacquer — but the similar style unifies them all. Also, I placed each in different section, to make each piece stand out out and help all three sections flow together.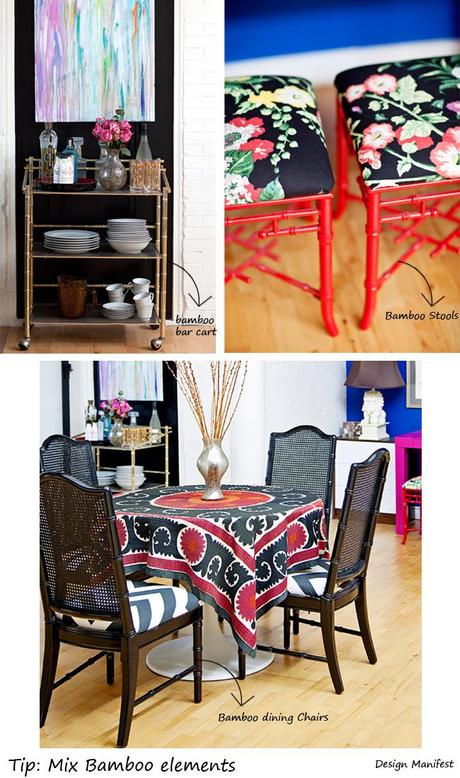 ANIMAL ACCENTS:
When it comes to animal accents I think a little goes a long way so I was quite selective in this department.  I love the way my cowhide loosely defines my reading/entry area without adding in any additional color or pattern.  When searching for the perfect "neutral" to complement my peacock wallpaper (another animal, I suppose!) I felt that zebra upholstery was the perfect fit. Zebra goes with anything and in small doses it's oh-so-sharp.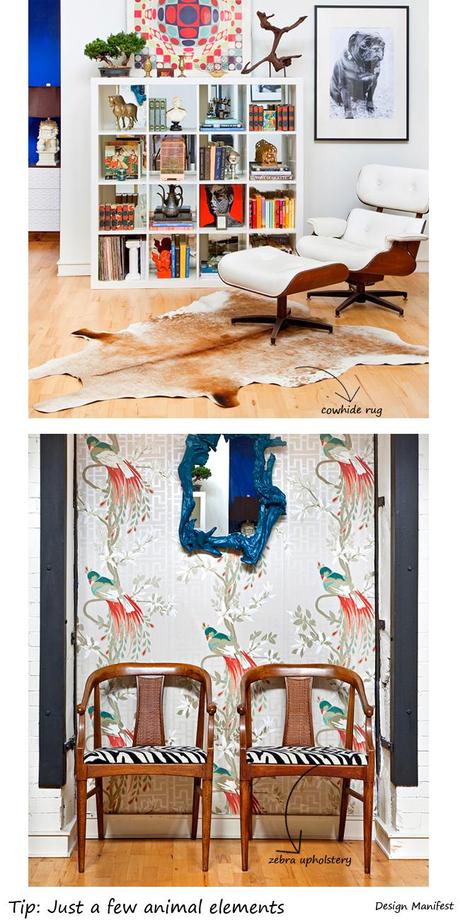 p.s. Black and white animal photography is a great way to fill walls on a budget.  I love Kinkos.  I also love my pug, Bailey, too.
GOLD:
Gold was another way I unified all the areas of my loft.  My Hollywood Regency coffee table and French Chairs are from different eras but work well together with their similar gold finishes.  I have Asian-Style Cabinets with gold hardware in the same area. Not only do my metallic accents add glamour, but when used over and over again, they make the whole space feel connected.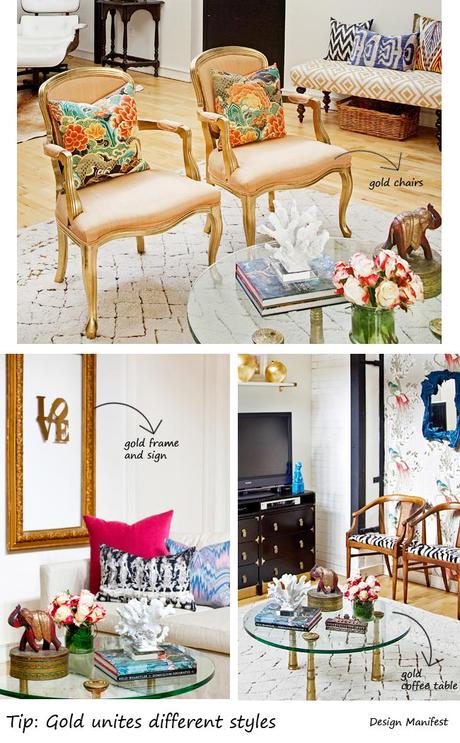 I didn't want my loft to feel too glam or girly, so I just had to add in a few rustic touches.  My live-edge wood end table added a nice organic element to the living room.  (And an essential piece of wood furniture — every room needs a bit of natural wood.)  Same with the wood shelf in my office nook- it did a nice job of breaking up all of that color!  I like all of my spaces to have a balance of rustic and glam.  It helps them feel layered and rich.
BLACK:
And then there is black.  More than any other element, this was the biggest repetitive theme for me.  I like that black is strong and bold, but not flashy like gold.  You have a limit on how much gold you use before you get gaudy, whereas black has a soothing effect in my mind.  It balances out my strong use of color.  It glams up the wood.  It even adds strength to my whimsical bamboo pieces. Black is the glue in my loft and I love every little bit of it.
You can see it in nearly all of the pictures above, and the ones below.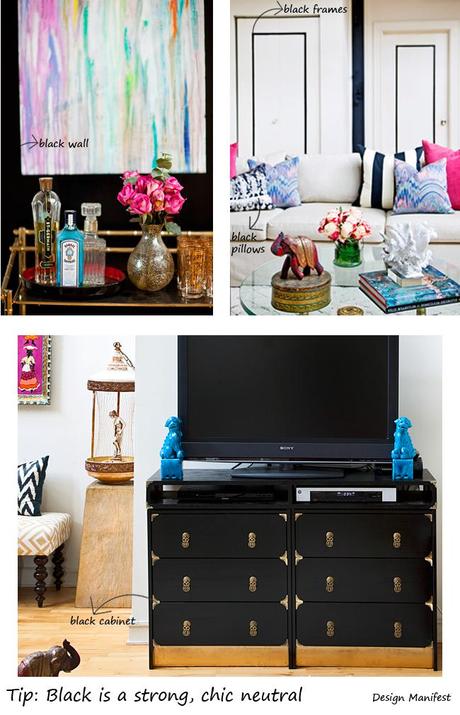 Ultimately, if you are maximalist, like myself, editing is KEY. There is no easy formula I can give you to create a perfect boho glam space.  To me, the essence of boho is that it isn't matchy; it's ethnic, eclectic and free spirited.  Yet it needs to be in balance or it just looks sloppy.  I found the best way to stay balanced was to pick my themes and repeat them, but also not be afraid to break the rules.
I could probably write a whole other post on pattern and color, but that will have to be another time.  I hope that was helpful!
Happy Decorating,
Naomi
All images are of Naomi Stein's Apartment
Photography by Courtney Apple