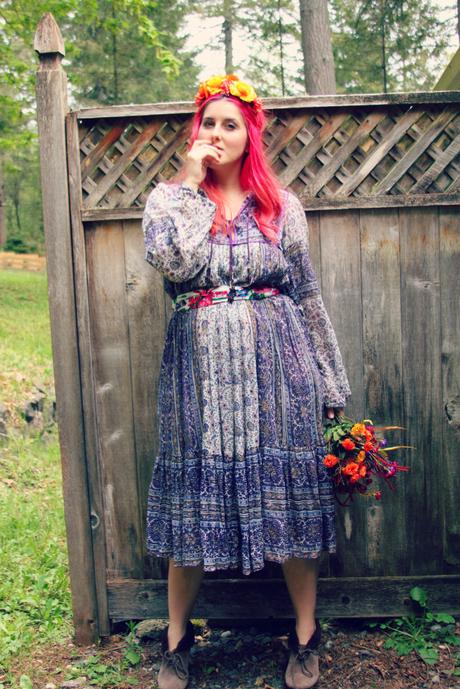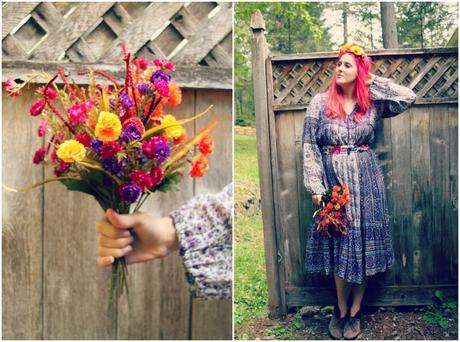 When I was young and living in Eastern Washington, I remember walking through a particular field that was flooded with wildflowers and loving to pretend that I was a gypsy. I romanticized the wandering life, and often liked to dress up in colorful, flowing bohemian outfits to flit through that field and pick bachelor's buttons and daisies, and imagine some rogue on a dark horse would sweep me away into a whirlwind life of travel and romance. This vintage boho dress perfectly recalls those fantasies of my preteen years.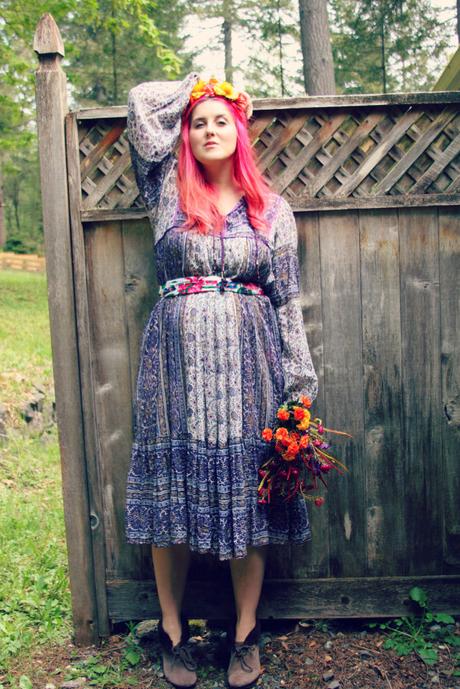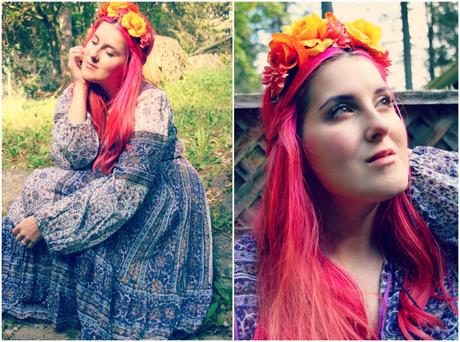 It's really interesting blogging every day; it shows how much my clothing mood changes from day to day. One day, I feel like going the whole nine yards with a really vintage look. The next, I'm channeling a fairytale. Then another day I might prefer the ease of a swingy skirt and a simple top. Yesterday, I just wanted to be breezy, relaxed, and colorful all at the same time, and this gorgeous dress did the trick!
I've worn hippie/bohemian styles often enough that a lot of people associate this type of look with me; maxi dresses, the 70's, colorful, maybe a little psychadilic, and definitely with a flower crown or headscarf. Funny enough, though, I much prefer a full skirt and the aesthetic of the 40's and 50's. My dream look is somewhere between the flow and ease of the 40's during the war (when style required more practicality) and the perfect, done-up poof of the 50's housewife. (And after a little more scrolling, this is the absolute ideal outfit for me. Everything, except the weird almost-Birkenstock sandals. I love it!)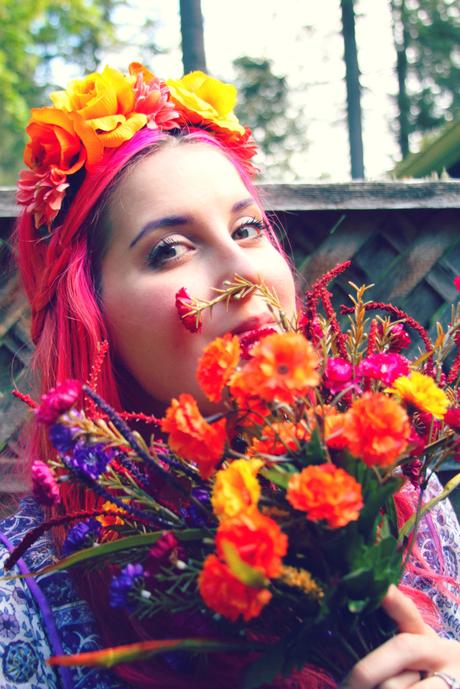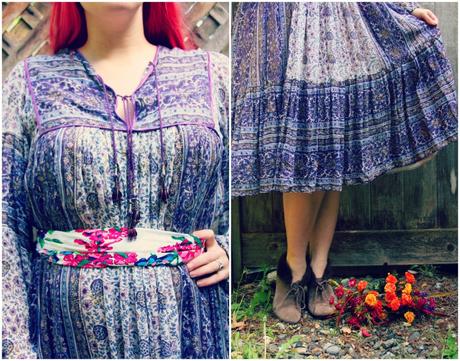 But I don't like limiting myself completely to one aesthetic, so when I saw this beautiful vintage boho dress, with its paisley and floral prints, the gold stars and suns hand-painted onto the fabric, the beads at the neck, and the ruffle and wide sleeves, I knew I had to get it. Even if it's not a regular feature in my wears, I couldn't leave it behind.
I think daily outfit sharing has really been showing me what I feel most comfortable in. There have definitely been some outfits that I have shared and then immediately taken off, and others that I have worn all day. I prefer sharing what I actually wear, but some days are just yoga pants days when you have a teething baby.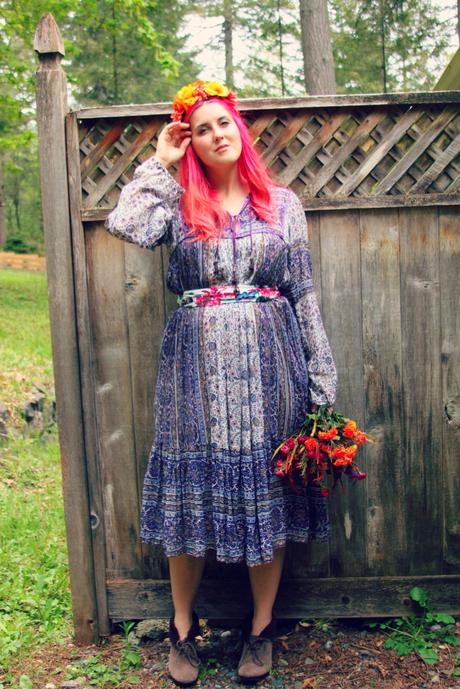 Dress, vintage | shoes and belt/scarf, thrifted | flower crown, handmade
I will never give up on any one aesthetic completely (except probably the very modern ones) because fashion is far too fun to just put yourself in one box. But I do think it's good to have an overall sense of what my preferred style is, to make daily dressing easier. The more I find what I feel comfortable in, the less time I spend pulling item after item out of my closet and tossing it haphazardly on the floor as I reject each piece for some little nitpick or another.
On a short note, I am not one to care a lot about the numbers, but sometimes, certain things get exciting. I'm getting close to 500 likes on Facebook, and I would LOVE it if you would like (or share!) my page and help me reach that little goal! You are all so fantastic, and I appreciate every comment, every like, every conversation and email and shoutout; seriously. I think I have the best community of friends a blogger has ever had!
Happy Wednesday!

Bloglovin|Facebook|Twitter|Pinterest|Instagram|Etsy Vintage|Circle Skirt Shop|Photography