Bohemian Switzerland is as far away from Prague life as you can imagine. It's a fantasy world of leafy forests, deep river gorges, and oddly-shaped sandstone arches and towers.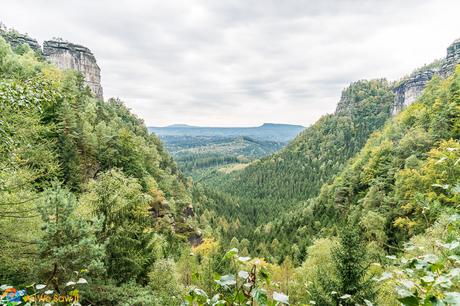 The region earned its name thanks to two Swiss painters who lived in nearby Dresden. They thought the scenery reminded them of their homeland and captured the landscapes on canvas. It might not be Switzerland, but it was close, and the name Bohemian Switzerland stuck.
When we originally designed our 3-week itinerary road tripping through the Czech Republic, our plan was to spend a couple of days driving around the area. Would it remind us of Switzerland? We didn't know, but we were intrigued. Aside from seeing a couple of the more popular destinations, we had no plans further than hiking wherever the spirit moved us.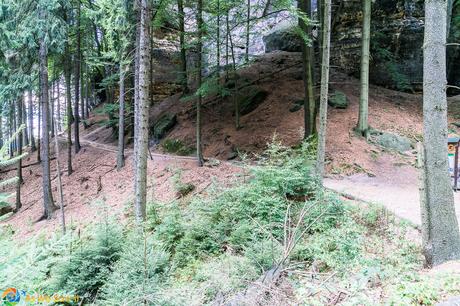 Things changed when Czech Tourism put us in touch with Vitek, whose company, Northern Hikes, specializes in Bohemian Switzerland hiking tours. Would that interest us?
The chance to see Bohemian Switzerland from a local's perspective? Priceless!
Getting to Bohemian Switzerland
Our drive from Karlovy Vary wound through towns and very pretty farmland until we found ourselves in Decin. Now we knew why Czech Tourism had advised us not to stay there. "It's an industrial town and there's not much to see there except the castle," they had said.
While we were inclined to agree, the castle dominated the town and looked well-maintained, albeit a bit lonely. I wondered how many people bother to visit every year.
Driving out of town, the scenery quickly changed to verdant greenery as our two-lane highway followed the Labe River north. (You've heard of that river. It changes its name at the border and becomes the River Elbe.) Suddenly the views were worth stopping for. A hike down to the water's edge rewarded Dan with some beautiful shots to remember our drive by.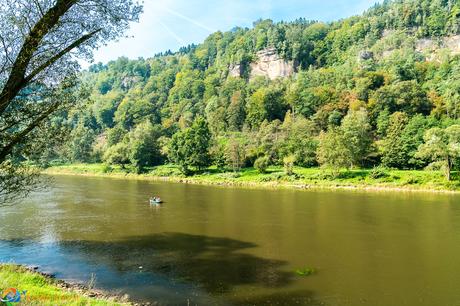 Hrensko
Back on the road, we turned a corner and almost felt transported to Germany. We had arrived at Hřensko, gateway town to Bohemian Switzerland National Park.
Hrensko is not much. It's barely more than a few half-timbered buildings – mostly hotels and shops – tightly squeezed onto a narrow ledge between high cliff walls and the river. Hiking is a popular Czech and German pastime, so its big appeal is that people can park here and hike into the surrounding woodlands.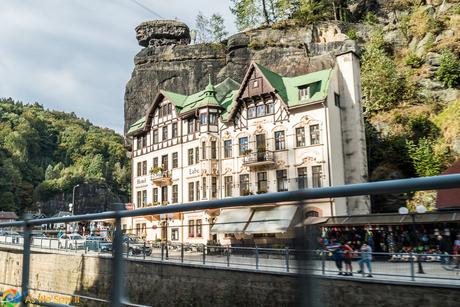 But not us; we continued up the hill to the little town where our hotel was located. Just enough time to settle in before Vitek met us there for lunch. After greeting our waiter by name, he thoughtfully offered to help us order from the Czech menu. (Bonus tip: Try the raspberry lemonade. It's delicious.) Then we discussed what we could see around the area. Today, we would begin with Bohemian Switzerland's best-known attraction. Then, tomorrow we would boat through Edmund's Gorge, see Saxon Switzerland, and more.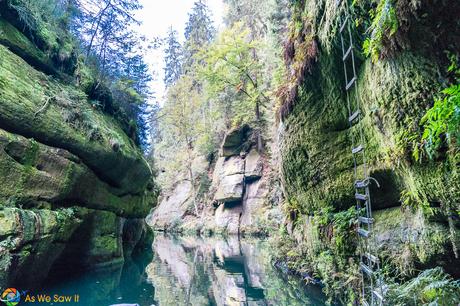 We would be boating through Edmund's Gorge the following day….
Hiking in Bohemian Switzerland
Bohemian Switzerland is home to an impressive landmark: the biggest sandstone natural arch in Europe. Once upon a time people used to walk across it but its popularity became its undoing. All the heavy foot traffic created so much stress that they began to fear it would collapse, so they closed it. And yes, even film studios must yield to that rule. Pravcice Gate was a location in Chronicles of Narnia: The Lion, the Witch and the Wardrobe. The characters who appear to run over the arch were pasted in.
In any event, we hadn't packed hiking shoes so Vitek took us on an easier-but-longer route than normal. We shared our path with families and mountain bikers. As we walked along, Vitek entertained us with stories about the region, the country, and some of his favorite clients. Vitek pointed out things we might have otherwise missed and thoughtfully made sure we kept well-hydrated. It seemed he was enjoying himself as much as we were.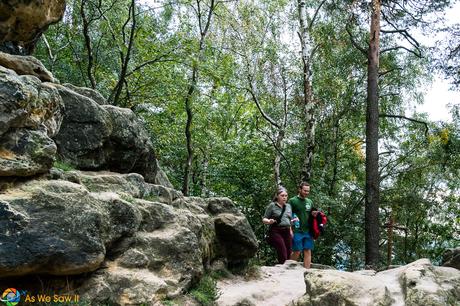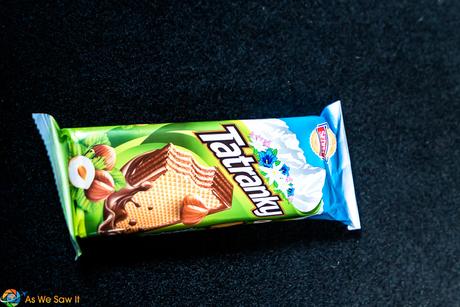 Vitek brought a few snacks for our trip, including this classic Czech hazelnut-chocolate treat for us to try.
Sokolí hnízdo, the Falcon's Nest hotel
Finally, we came to a gate where Vitek paid our admission and pointed us to the rest rooms. When we returned, he was waiting for us with cups of Kofola in his hand. "This is a uniquely Czech drink," he said. "You must try it while you are here." As best I can figure out, Kofola was a Communist-era attempt to imitate the more successful, capitalist Coca-Cola. At least, that's what it tasted like to me. Verdict: We don't think Coke has anything to fear.
We were standing in an 1871 building known as Hotel Sokolí hnízdo (English: Falcon's nest), built as a holiday chateau right next to the arch. It's no longer a hotel but the first floor is still open as a photo gallery. (I'm told the ground floor contains a preserved, period restaurant decorated with original paintings, but we didn't see it.)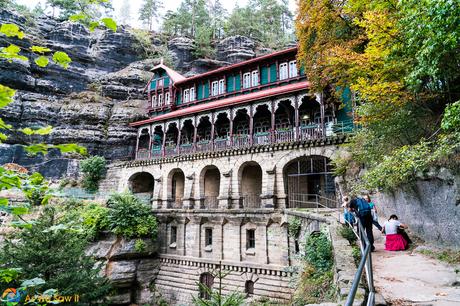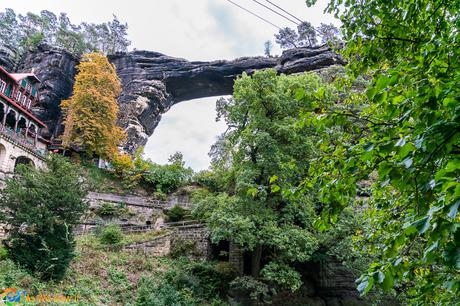 Pravčická brána – Pravcice Gate
Vitek urged us out of the gallery to a staircase that led up the rocks. It was a strenuous climb, but every view was better than the last. When we reached the final observation point, we stood in silent awe. Pravcice Gate was beneath us in the fading light and we had fabulous views to the far horizon in Saxon Germany.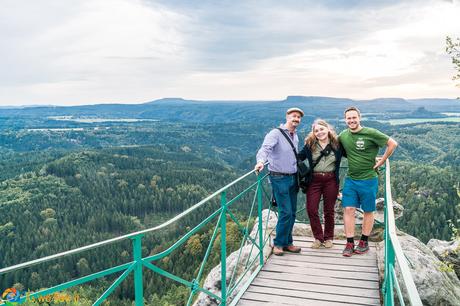 "I'm sorry the clouds are in the way," Vitek apologized, not knowing how thrilled we were by the view. "The gate is incredibly beautiful when the sun hits it at this time of day. You would have had some amazing photos."
The ones we were getting weren't too shabby either, but I was too busy to argue.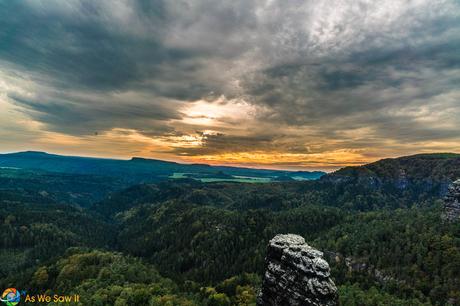 The park closes at sunset, but since we had a guide who knew the park we weren't intimidated by hiking back in the dark. Vitek smiled and said, "Then we still have a few minutes." We waited for as long as we could and then headed down the steps. At the last moment, the sky cleared and the sun broke through the clouds, bathing the rocky arch in a golden light.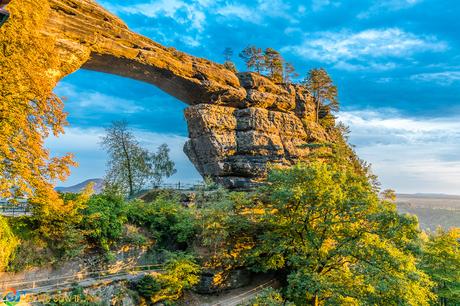 This moment made the entire trip worthwhile. It is one of my favorite memories of our entire road trip through the Czech Republic.
And to think we had originally planned to just drive around the area. I shudder to think what we would have missed.
Inspired?
Read more about Pravcicka brana on the official Czech Tourism website and on the Pravčická brána website.
See more beautiful photos of the area in our Bohemian Switzerland photo gallery.
Get a virtual tour of Pravcicka brana sandstone arch here.
Take a tour yourself. It is best to adventure into the National Park with a knowledgeable, English-speaking guide. We went with Northern Hikes, which specializes in tours in Saxon Switzerland and Bohemian Switzerland ([email protected]). Day trips are available from Prague.
Where to stay: We stayed at U Forta in Mezna. Their English skills are not top-notch, but Vitek says they speak it better than the others in the area. Search for a hotel here:
Save it for later. Pin this gorgeous shot to your Pinterest boards as a reminder: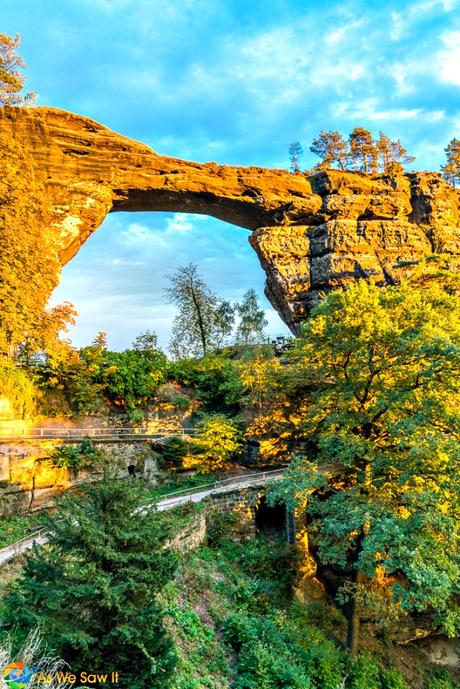 (Visited 249 times, 12 visits today)